Literatur Review: The Role of Questioning as Scaffolding in Mathematics Learning
Literature Study: The Role of Questioning as Scaffolding in Mathematics Learning
Keywords:
Literature study, Questioning, Scaffolding, Mathematics Learning
Abstract
A review of several studies showed that the teacher's questioning skills are still not
optimal, even though this is a skill possessed by the teacher. Therefore, the study of giving
questions or questioning needs to be studied further. This study aimed to provide an
explanation of questioning, scaffolding, the role of questioning as scaffolding in learning
mathematics, and strategies for conducting questioning. This research method is literature
study by collecting books and scientific journals related to questioning and scaffolding. The
results of this literature study indicated that teachers need to have skills in questioning in
carrying out their roles. As a form of scaffolding, questioning played a very important and
quite decisive role for the success of learning mathematics. In carrying out questioning,
several things need to be considered, such as a good atmosphere, short and clear questions,
sufficient time to think, tracking questions, paying attention to the level of questions, and most
importantly paying attention to feedback given. With questioning, it will have an impact on
the development of the core quality of students' mathematics.
Downloads
Download data is not yet available.
References
Achdiani, Y., & Rusliyani, A. (2017). Pengetahuan Keterampilan Dasar Mengajar
dalam Menyiapkan Guru Sekolah Menengah Kejuruan. Teknobuga, 5(2), 34–43.
Ashirin, N., N, L., & Putra, Z. H. (2021). Keterampilan dasar mengajar guru pada
proses pembelajaran matematika di kelas V SDN 110 Pekanbaru. Jurnal
Pendidikan Dan Pengajaran Guru Sekolah Dasar (JPPGuseda), Vol.4(1), 21–
Bastian, B. (2019). Analisis Keterampilan Dasar Mengajar Guru Dalam Melaksanakan
Pembelajaran Di Sekolah Dasar. JURNAL PAJAR (Pendidikan Dan Pengajaran),
Vol.3(6), 1357–1365.
Dahal, N., Luitel, B. C., & Pant, B. P. (2019). Understanding the use of questioning
by mathematics teachers: A revelation. International Journal of Innovation,
Creativity and Change, Vol.5(1), 118–146.
Fajriyah, M. N., & Ilma Indra Putri, R. (2017). Dayung Context in Fraction.
Febrian, F., & Astuti, P. (2019). CLASSROOM MATHEMATICAL QUESTIONING
SKILL (CMQS) MAHASISWA PRAKTIKAN MICRO TEACHING. EDUMAT: Jurnal Pendidikan Matematika, 7(2), 111.
https://doi.org/10.20527/edumat.v7i2.7252
Fisher, D., & Nancy, F. (2010). Guided Instruction: How to Develop Confident and
Successful Learners. www.ascd.org/books
Hanifah, A. I. (2018). Defragmenting Perajutan Skema Siswa Smp Dalam
Menyelesaikan Masalah Aljabar. Jurnal Reforma, Vol.7(1), 12.
Hatta, M. (2018). Empat Komptensi Untuk Membangun Profesionalisme Guru.
Nizamia Learning Center.
Indriyani, S., Banjarmasin, U. I. N. A., & Tarbiyah, F. (2019). KEMAMPUAN
DOSEN MENERAPKAN KETERAMPILAN BERTANYA PADA MATA
KULIAH BIOLOGI DASAR DI UIN ANTASARI. Journal of Islamic and Law
Studies, Vol.3(1), 41–61.
Ismawati, A., Hindarto, N., & Negeri, S. (2017). Unnes Journal of Mathematics Education Research Kemampuan Pemecahan Masalah Matematika dalam
Problem Based Learning dengan Strategi Scaffolding Ditinjau dari Adversity
Quotient Info Artikel. In 48 UJMER (Vol. 6, Issue 1).
http://journal.unnes.ac.id/sju/index.php/ujmer
Jia, H., & Zhong, L. (2018). The research on strategy of effective questioning in junior
high school mathematics class. Vol.113, 454–457.
Kartiningrum, E. D. (2015). Panduan Penyusunan Studi Literatur. In Lembaga
Penelitian dan Pengabdian Masyarakat Politeknik Kesehatan Majapahit,
Mojokerto.
Labiba Zahra, D. (2016). Studi Deskriptif Keterampilan Bertanya Guru Pada Proses
Pembelajaran Matematika Ditinjau Dari Pengalaman Mengajar Di SMA Taman
Madya Probolinggo Tahun Pelajaran 2016/2017. Seminar Nasional Matematika
Dan Pendidikan Matematika, November 2016, 456–466.
Mccarthy, P., Sithole, A., Mccarthy, P., Cho, J.-P., & Gyan, E. (2016). Journal of
Education and Practice www.iiste.org ISSN (Vol. 7, Issue 21). Online.
www.iiste.org
Mutlu, Y. 2019. Math Anxiety in Students With and Without Math Learning
Difficulties. International Electronic Journal of Elementary Educatioin, 11(2):
-475.
Nugroho, P. B. (2017). SCAFFOLDING MENINGKATKAN KEMAMPUAN
BERPIKIR KRITIS DALAM PEMBELAJARAN MATEMATIKA.
Patmaniar. (2014). Investigasi Keterampilan Dasar Mengajar Guru Matematika.
Seminar Nasional Pendidikan Karakter, 01, 169–214.
Putri, M. L., & Dafit, F. (2022). Teacher Ability to Apply Questioning Skills in
Elementary School. Jurnal Ilmiah Sekolah Dasar, Vol.6(1), 21–28.
Qamar, K., & Riyadi, S. (2016). Bentuk Scaffolding Dalam Pembelajaran Matematika
Menggunakan Aplikasi Berbasis Teks. Prosiding Seminar Nasional Pendidikan
Matematika 2016 ~, 1, 301–305.
Rachmawati, I., Purnama, A., Jurusan, M., Matematika, P., & Siliwangi, I. (2019).
Penggunaan Teknik Scaffolding Pada Pembelajaran Matematika Untuk
Meningkatkan Kemampuan Pemahaman Matematik Pada Siswa SMP (Vol. 2,
Issue 2). Online.
Retta, A. M. (2017). ANALISIS KETERAMPILAN DASAR MENGAJAR
MAHASISWA CALON GURU PENDIDIKAN MATEMATIKA. Seminar
Nasional Pendidikan PGRI 2017 "Pengembangan Pendidikan Karakter Untuk
Meningkatkan Marwah Bangsa," 174–179.
Rosdiana, R., Agustiani, N., & Nurcahyono, N. A. (2018). Analisis Proses Berpikir
Siswa Smp Dalam Memecahkan Masalah Aljabar Ditinjau Dari Gaya Kognitif.
PYTHAGORAS: Jurnal Program Studi Pendidikan Matematika, Vol.7(2), 74–84.
Rusmayanti, A., Muti'ah, A., & Husniah, F. (2017). Penerapan Keterampilan Bertanya
dan Memberikan Penguatan dalam Pembelajaran Bahasa Indonesia di Kelas VII
SMP Negeri 4 Jember. Lingua Franca, Vol.II(2), 510–518.
Sari, N., & Surya, E. (2017). EFEKTIVITAS PENGGUNAAN TEKNIK
SCAFFOLDING DALAM MENINGKATKAN HASIL BELAJAR
MATEMATIKA PADA SISWA SMP SWASTA AL-WASHLIYAH MEDAN.
Siskawati, F. S., & Nurdin, E. (2021). Peran Scaffolding pada Pembelajaran
Matematika: Suatu Kajian Kepustakaan. Juring (Journal for Research in Mathematics Learning), Vol.4(3), 305–310.
Sundari, F. S., Sukmanasa, E., Novita, L., & Mulyawati, Y. (2020). KETERAMPILAN
DASAR MENGAJAR. Program Studi Pendidikan Guru Sekolah Dasar Universitas
Pakuan.
Sutiarso, S. (2009). Prosiding Seminar Nasional Penelitian, Pendidikan dan Penerapan
MIPA Fakultas MIPA.
Talib, A., & Minggi, I. (2019). Scaffolding dalam menyelesaikan masalah Matematis
berdasarkan kecerdasan sosial Siswa SMP Kabupaten Gowa. Jurnal Saintech,
–372.
Taufik, R., Rivaie, W., & Sulistyarini, D. (2013). Kemampuan Guru Menerapkan
Keterampilan Bertanya Pada Pelajaran Sosiologi Di Kelas XI Sma Islamiyah
Pontianak. Jurnal Pendidikan Dan Pembelajaran Khatulistiwa, Vol.2(4), 1–10.
Van de Pol, J., Volman, M., Oort, F., & Beishuizen, J. (2015). The effects of
scaffolding in the classroom: support contingency and student independent
working time in relation to student achievement, task effort and appreciation of
support. Instructional Science, 43(5), 615–641. https://doi.org/10.1007/s11251-
-9351-z
Wibawa, K. A. (2013). Defragmenting Berpikir Pseudo Siswa Dalam Memecahkan
Masalah Limit. Seminar Nasional Exchange of Experiences Teacher Quality
Improvement Program (TEQIP) 2013 ", Vol.2, 721–740.
Wulandari, S., & Gusteti, M. U. (2020). Analisis Kesalahan Menyelesaikan Soal
Trigonometri Siswa Kelas X SMA. Math Educa Journal, 4(1), 64–80.
Wulandari, S., & Gusteti, M. U. (2021). Defragmentation of Preservice Teacher's
Thinking Structures in Solving Higher Order Mathematics Problem. Journal of
Physics: Conference Series, Vol.1940(1).
Zulkardi, Z., & Kohar, A. W. (2018). Designing PISA-Like Mathematics Tasks in
Indonesia: Experiences and Challenges. Journal of Physics: Conference Series,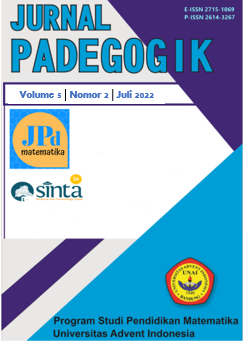 Downloads
How to Cite
Wulandari, S., & Hayati, I. (2022). Literatur Review: The Role of Questioning as Scaffolding in Mathematics Learning: Literature Study: The Role of Questioning as Scaffolding in Mathematics Learning. Jurnal Padegogik, 5(2), 43-52. https://doi.org/10.35974/jpd.v5i2.2898
License
Copyright (c) 2022 Jurnal Padegogik
This work is licensed under a Creative Commons Attribution-NonCommercial-ShareAlike 4.0 International License.
The submitting author warrants that
The submission is original and that she/he is the author of the submission together with the named co-authors; to the extend the submission incorporates text passages, figures, data, or other material from the work of others, the submitting author has obtained any necessary permission.
Articles in this journal are published under the Creative Commons Share-Alike Attribution Licence (CC-BY-SA  What does this mean?). This is to get more legal certainty about what readers can do with published articles, and thus a wider dissemination and archiving, which in turn makes publishing with this journal more valuable for you, the authors.
By submitting an article the author grants to this journal the non-exclusive right to publish it. The author retains the copyright and the publishing rights for his article without any restrictions.