THE PHILOSOPHICAL ANALYSIS OF THE UNDERSTANDING OF GOD WRATH AT ANY TIME BASED ON PSALM 7:12 INCONGREGATION OF INDONESIA PUBLISHING HOUSE (IPH) BANDUNG
Abstract
The fundamental reason for this research is to analyze the opinion of king David
about God Wrath Every time based on Psalm 7:12. In this case, to understand
the spiritual meaning contained in Psalm 7:12 from king David's statement about
God through his personal experience. Therefore, the author uses three indicators
to find the understanding of God Wrath Every Time. Every indicator that writer
use is; (1) The Meaning of God Wrath Every Time, (2) The reason that God
Wrath Every Time, (3) The purpose that God Wrath Every Time. Nex Stept, is
to find out the level of understanding from the members of the Indonesia
Publishing House (IPH) congregation about God Wrath Every Time.
The methodology of this research consists of field data collection techniques,
place and time of research, research results and methods of data analysis and
results and discussion.
The meaning of God Wrath Every Time is because sin always against His nature
or will. This shows God's attitude that unchanging toward a human who against
Him by breaking His law.
God's wrath every time aims for believers to be comforted that evil does not
escape from the observation of God. In this case, God is not being indifferent,
in which there is goodness, justice, mercy, preventing the destruction of sinners
by bringing the sinner to repentance. At the same time God shows the necessity
of doing judgments to sinners even the punishment of the unconverted.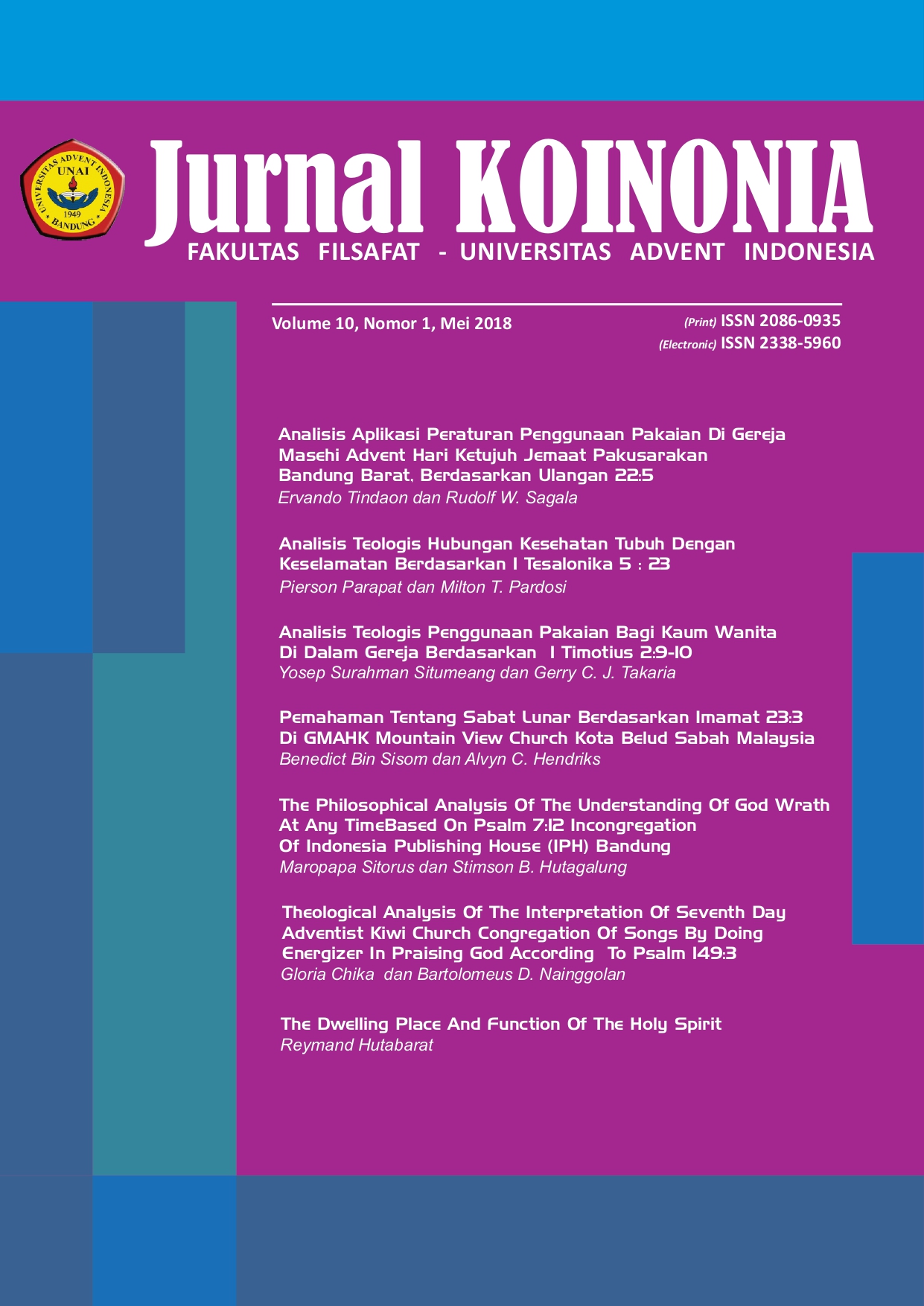 Downloads
How to Cite
Sitorus, M., & Hutagalung, S. B. (2018). THE PHILOSOPHICAL ANALYSIS OF THE UNDERSTANDING OF GOD WRATH AT ANY TIME BASED ON PSALM 7:12 INCONGREGATION OF INDONESIA PUBLISHING HOUSE (IPH) BANDUNG. Jurnal Koinonia: Fakultas Filsafat Universitas Advent Indonesia, 10(1), 89-108. https://doi.org/10.35974/koinonia.v10i1.2288