A COMPARATIVE STUDY ON IMMANUEL KANT'S AND HANNAH ARENDT'S CONCEPTS OF EVIL: THEOLOGICAL IMPLICATIONS
Abstract
Pertanyaan tentang kejahatan adalah pertanyaan filosofis dan teologis yang penting
yang langsung menuju inti dari dorongan manusia menuju kehidupan etis, oleh
karena itu penting untuk memeriksa kembali masalah kejahatan karena implikasinya
pada kemampuan manusia untuk memutuskan bagaimana bertindak dengan benar.
Dalam karyanya "Religion within the Boundaries of Mere Reason." Immanuel Kant
mengembangkan konsep kejahatan radikal yang ia gambarkan sebagai "inversion of
our maxims" atau penyesatan kehendak individu yang mengakibatkan korupsi
pilihan akan tindakannya. "Gagasan mendasar filsafat Kant adalah otonomi
manusia." Ini terlihat dalam pandangan konstruktivis Kant tentang pengalaman,
yang dengannya pemahaman kita adalah sumber dari hukum-hukum alam yang
umum. Dalam nada yang sama, Hannah Arendt mengusulkan konsep kejahatan
dangkal dalam bacaannya tentang perbuatan Adolf Eichmann sebagai kepala arsitek
holocaust selama Perang Dunia II. Dia menyatakan bahwa dia melakukan tindakan
jahat itu tanpa berpikir karena dia hanya menjalankan perannya sebagai seorang
birokrat dalam upaya perang Jerman. Arendt menyimpulkan bahwa Eichmann
secara konstitusional tidak diperlengkapi untuk mempraktikkan jenis penilaian yang
akan membuat korbannya terlihat jelas dan nyata dalam pemikirannya.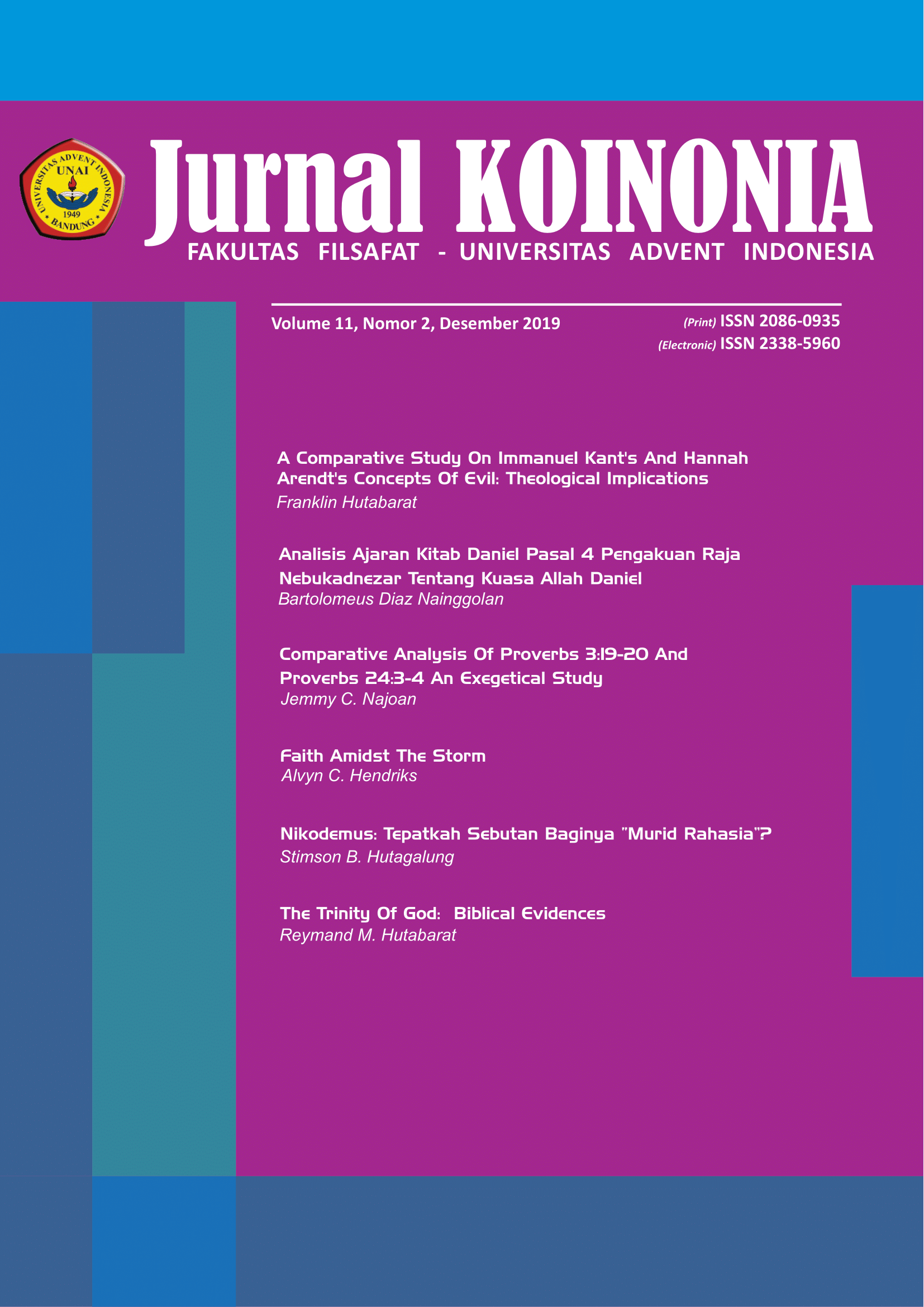 Downloads
How to Cite
Hutabarat, F. (2019). A COMPARATIVE STUDY ON IMMANUEL KANT'S AND HANNAH ARENDT'S CONCEPTS OF EVIL: THEOLOGICAL IMPLICATIONS. Jurnal Koinonia: Fakultas Filsafat Universitas Advent Indonesia, 11(2), 1-10. https://doi.org/10.35974/koinonia.v11i2.2349
Section
Pastoral Counselling