Gangguan Stres Pascatrauma dan Panggilan Penginjilan: Sebuah Refleksi Teologis dan Psikologis dari Kitab Yunus
Keywords:
Stres Pascatrauma, Panggilan Penginjilan, Yunus
Abstract
Evangelism is the Great Commission from God to mankind. God gave the same mandate to Jonah, but Jonah bravely refused the Great call. This study tries to find out why Jonah was "too brave" to reject God's great call and go to Tarshish? And why then did he change course from Tarshish to Nineveh? This study used a qualitative method with a descriptive analysis approach through a literature review of the biblical text. In conclusion, Jonah's "too brave" action in rejecting God's Great call was caused by the post-traumatic stress disorder he experienced with his family from childhood to adulthood during the Syrian invasion of Northern Israel, resulting in his intense antagonism towards Nineveh which made him drift away from God. When Jonah's post-traumatic stress disorder was treated with complete surrender through prayer, Jonah was given the courage, fortitude, and determination to spread the news of salvation to the city of Nineveh.
References
Abusch, Tzvi. "Jonah and God: Plants, Beasts, and Humans in the Book of Jonah (An Essay in Interpretation)." Journal of Ancient Near Eastern Religions 2, no. 13 (2013): 148.
Ackerman, James S. "Jonah." In The Literary Guide to the Bible. Ed. R. Alter and F. Kermode. Cambridge, Mass.: Harvard Univ. Press., 1987.
Albarracin, Dolores, and Robert S. Wyer Jr. "The Cognitive Impact of Past Behavior: Influences on Beliefs, Attitudes, and Future Behavioral Decisions Dolores." Department of Psychology, Univerty of Florida 79, no. 1 (2000): 5–22.
Alter, Robert. The Song of Songs Ruth, Ester, Jonah, and Daniel. London:W. W. Norton & Company Ltd., 2015.
Astour, Michael C. "841 B. C.: The First Assyrian Invasion of Israel." Journal of the American Oriental Society 91, no. 3 (1971): 383.
Baham, Mark. "The Book of Jonah : Understanding a Reluctant Prophet," no. June (2020): 1–15.
Barna Research. "Almost Half of Practicing Christian Millennials Say Evangelism Is Wrong." Barna Group, 2018.
Barrett, Rob. "Meaning More than They Say: The Conflict between Yhwh and Jonah." Journal for the Study of the Old Testament 37, no. 2 (2012): 237–257.
Becker, Eve-Marie, Dochhorn, Jan, and Else (Eds.) Holt. Trauma and Traumatization in Individual and Collective Dimensions: Insights from Biblical Studies and Beyond. Göttingen: Vandenhoeck & Ruprecht., 2014.
Brewing, CR, and EA Holmes. "Psychological Theories of Posttraumatic Stress Disorder." Clinical Psychology Review. 23 (2003): 339–376.
Bright, John. A History of Israel. Louisville: Westminster John Knox, 2000.
Bruckner, James. Introduction to Jonah. USA:Zondervan, 2013.
Chen, Yung Y., and Harold G. Koenig. "Traumatic Stress and Religion: Is There a Relationship? A Review of Empirical Findings." Journal of Religion and Health 45, no. 3 (2006): 371–381.
Claassens, L. Juliana. "Surfing with Jonah: Reading Jonah as a Postcolonial Trauma Narrative." Journal for the Study of the Old Testament 45, no. 4 (2021): 576–587.
Davidson, JoAnn. Jonah. Silver Spring: Pacific Press, 2003.
Eko Sudarmanto, Ardhariksa Zukhruf Kurniullah, Erika Revida, Rolyana Ferinia, Marisi Butarbutar, Leon A. Abdilah, Andriasan Sudarso, et al. Desain Penelitian Bisnis: Pendekatan Kuantitatif. Medan: Medan: Yayasan Kita Menulis, 2021.
Fantalkin, Alexander, and Oren Tal. Navigating Between the Powers : Joppa and Its Vicinity in the 1st Millennium B. C. E. Ugarit Forschungen. Vol. 40, 229–23, 2008.
Frechette, Christopher. "The Old Testament as Controlled Substance: How Insights from Trauma Studies Reveal Healing Capacities in Potentially Harmful Texts." Interpretation, no. 69 (2015): 20–34.
Haraldsson, Erlendur. "Persistence of Past-Life Memories: Study of Adults Who Claimed in Their Childhood to Remember a Past Life." Journal of Scientific Exploration 22, no. 3 (2008): 385–393.
Harney, Kevin. "Why Is Evangelism So Hard?" Outreach Magazine. USA:Amazon, 2018. https://outreachmagazine.com/features/evangelism/34386-why-is-evangelism-so-hard.html.
Hill, PC, and MK Kilian. "Assessing Clinically Significant Religious Impairment In Clients: Applications From Measures in the Psychology of Religion and Spirituality." Mental Health, Religion & Culture. 6 (2003): 149.
Hutagalung, Stimson, Rudolf Weindra Sagala, Exson Pane, Bartolomeus Diaz Nainggolan, Joseph Sianipar, Jemmy C. Najoan, Budi Harwono, Alvyn Hendriks, Reymand Hutabarat, and Daviedh Zebedeus. Pertumbuhan Gereja. Medan: Kita Menulis: Medan: Yayasan Kita Menulis, 2021.
Jenson, Philip Peter. Obadiah, Johan, Micah: A Theological Commentary. NY:T & T Clark International, 2008.
Kelsey, Marian. "The Book of Jonah and the Theme of Exile." Journal for the Study of the Old Testament 45, no. 1 (2020): 128–140.
Kliewer, Stephen P, and John Saultz. "The Impact of Spirituality." Healthcare and Spirituality (2018): 63–83.
Lauterbach, Travis. "Jonah Reveals Why He Actually Ran Rrom God." The Spectrum, 2016.
Mariyati, Dwi Nur Aini. "Faktor Yang Berhubungan Dengan Post Traumatic Stress Disorder Pada Remaja Korban Kekerasan." Jurnal Keperawatan 12, no. 4 (2020): 909–918. file:///C:/Users/USER/Downloads/1015-Article Text-4372-1-10-20201123.pdf.
Mark, Dever. The Gospel & Personal Evangelism. IL:, 2007.
Musisi, Seggane, and Eugene Kinyanda. "Long-Term Impact of War, Civil War, and Persecution in Civilian Populations—Conflict and Post-Traumatic Stress in African Communities." Frontiers in Psychiatry 11, no. February (2020): 1–12.
Nichol, Francis. D. (ed). Bible Commentary Volume 3. USA: Review and Herald, 1977.
Olson, James M., and Gregory R. Maio. Attitudes in Social Behavior. Handbook of Psychology. Vol. 5, 2003.
Paragament, KI, HG Koenig, and LM Perez. "The Many Methods of Religious Coping: Development and Initial Validation of the RCOPE." Journal of Clinical Psychology 56 (2000): 519–543.
Pașca-Tușa, Stelian. "God's Mercy or Jonah's Anger?" Studia Universitatis Babeș-Bolyai Theologia Orthodoxa 65, no. 1 (2020): 23–37.
Priebe, Stefan, Marija Bogic, Dean Ajdukovic, Tanja Franciskovic, Gian Maria Galeazzi, Abdulah Kucukalic, Dusica Lecic-Tosevski, et al. "Mental Disorders Following War in the Balkans." Archives of General Psychiatry 67, no. 5 (2010): 518.
Roop, Eugene F. Ruth, Jonah, Esther. Ontario: Herald Press, 2002.
Rozanov, Vsevolod, Tanja Franciškovic, Igor Marinic, Maria Magdalena Macarenco, Marina Letica-Crepulja, Lana Mužinic, Ruwan Jayatunge, et al. "Mental Health Consequences of War Conflicts." Advances in Psychiatry, no. 9 (2018): 281–304.
Saldaña, Tanja. Adult Sabbath School Bible Study Guide. Silver Spring: Adult Bible Study Guide of the General Conference of Seventh-day Adventists., n.d.
Sánchez-Moreno, Joseph. "The Reason That Motivated Jonah's Escape." Expository Times 132, no. 2 (2020): 71–76.
Sareen, Jitender. "Posttraumatic Stress Disorder in Adults: Impact, Comorbidity, Risk Factors, and Treatment" 59, no. 9 (2014): 460–467.
Simon, Stefanus Dully, Tomi Yulianto, and Adi Prasetyo Wibowo. "Ritornera - Jurnal Teologi Pentakosta Indonesia" 1, no. 1 (2021): 65–77.
Sperry, Sidney B. The Spirit of the Old Testament. Salt Lake City: Deseret Book Co, 1980.
The Bible Journey. "Jonah Arrives at Nineveh." The Bible Jorney. Last modified 2021. https://www.thebiblejourney.org/biblejourney2/41-jonah-goes-to-nineveh-and-nahum-condemns-it/jonah-arrives-at-nineveh/.
Walker, Alyssa. "Jonah ' s Genocidal and Suicidal Attitude — and God 's Rebuke" (2015): 7–30.
Wortmann, Jennifer H., Crystal L. Park, and Donald Edmondson. "Trauma and PTSD Symptoms: Does Spiritual Struggle Mediate the Link?" Psychological Trauma: Theory, Research, Practice, and Policy 3, no. 4 (2011): 442–452.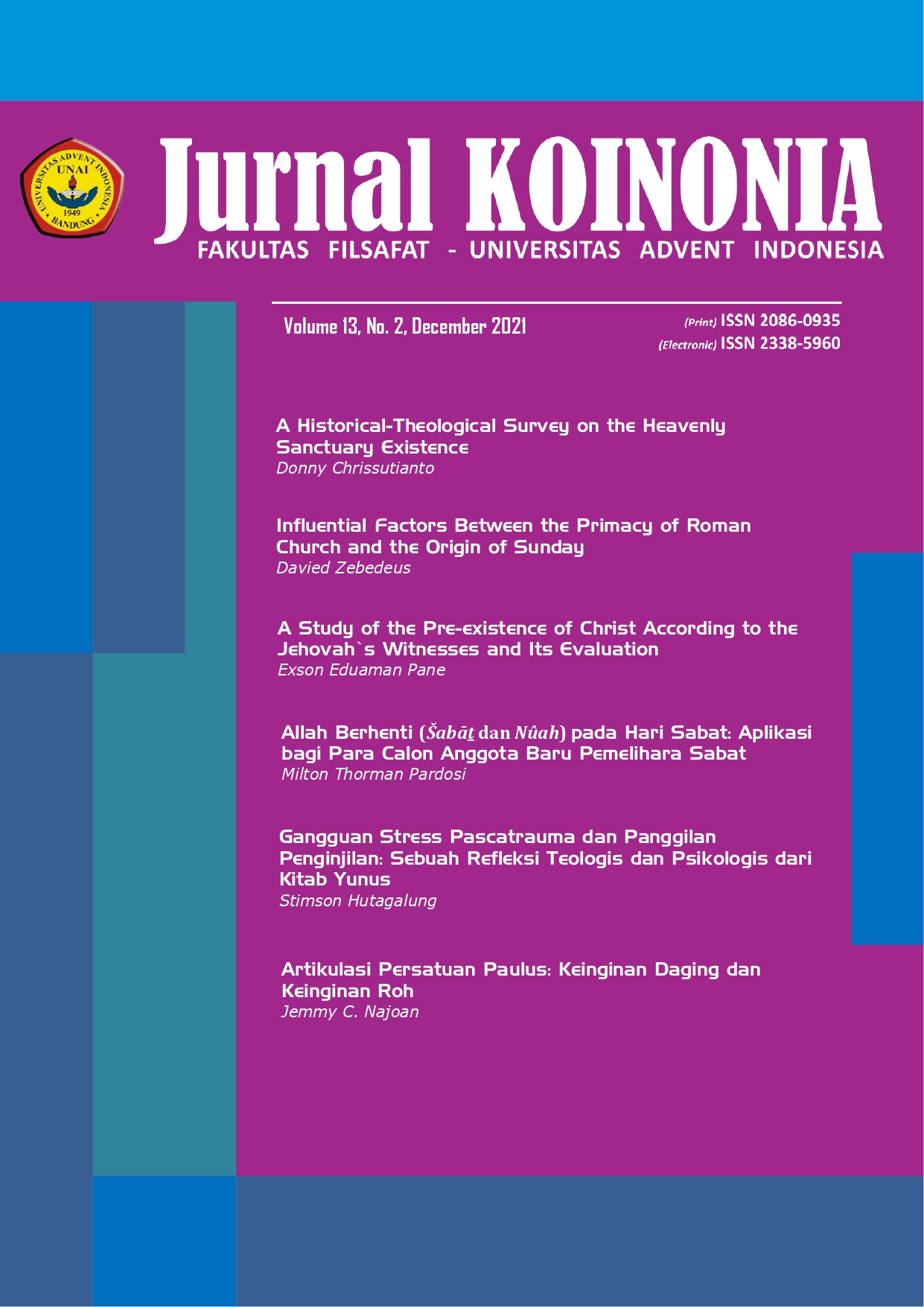 Downloads
How to Cite
Hutagalung, S. (2021). Gangguan Stres Pascatrauma dan Panggilan Penginjilan: Sebuah Refleksi Teologis dan Psikologis dari Kitab Yunus. Jurnal Koinonia: Fakultas Filsafat Universitas Advent Indonesia, 13(2), 120-133. https://doi.org/10.35974/koinonia.v13i2.2642