Weather The Storm: Evangelizing Amidst The Pandemic
Keywords:
Evangelization, Corona Virus Disease 2019, pandemic, digital science and technology
Abstract
The Corona Virus Disease 2019 has caused tremendous effects to the various facets of human life. To mention some areas, it has disrupted the economy, education, transportation, food, employment, leisure, and worship services. However, though how destructive the pandemic has been, the church still spreads Gospel. Through its evangelization program, the church resorts to find effective ways how to reach both its current members and the unreached. Using qualitative method which focusing on the documentary research, this paper is purposed to discuss how the early church faced trials and found methods to do the commission. The result shows that amidst the trials the early church, by the guidance of the Holy Spirit, always found a method to make the mission continue moving forward. The implication of the study shows that the digital science and technology is an effective method in attaining church's mission despite the present situation of the world.
References
Afolaranmi, Adebayo O. "Towards the Possibility of Internet Ministry as an
Alternative Pastoral Ministry in Nigeria during the COVID-19 Pandemic,"
International Journal of Information Technology and Language Studies, 4. no. 2 (2020): 12-26.
Ahmed, Jashim U. "Documentary Research Method: New Dimensions," Indus Journal of Management & Social Sciences, 4. no. 1 (2010):1-14.
Bailey, Kenneth D. 1994. Methods of Social Research. New York: The Free Press, 1994.
Boraas,Roger S. "Trade and Transportation," The HarperCollins Bible Dictionary, Revised ed. (New York, NY: HarperCollins Publisher Inc., 1996), 1165-1171.
Carson, D. A & Douglas J. Moo, An Introduction to the New Testament. Grand Rapids, MI: Zondervan, 2005.
Fortune Sibanda, Tenson Muyambo, and E. Citando, eds., "Religion and Public Health in the Shadow of Covid-19 Pandemic in Southern Africa," in Religion and the Covid-19 Pandemic in Southern Africa, pp. 1-24. New York, NY: Routledge. 2022
Haans, Albert L. J. "Crossing the Gospel of God's Kingdom Amidst the Storm of COVID-19" International Journal of Social and Management Studies, 2, no. 4 (2021): 88-97.
Hearn, Michael D. JR. "How Information Communication Technology Can Reshape Misssional Ecclesiology: The Making of a Technomisssional Church," DMin. Dissertation, George Fox Evangelical Seminary, Portland, Oregon, 2013.
Ivan Efreaim A Gozum, and Philip Joseph D. Sarmiento. "Maximizing Social Media for Evangelization and Religious Activities During the COVID-19 Pandemic as a Model Going Forward," International Journal of Research Studies in Education, 10, no. 9 (2021):107-113.
Justine Renus F. Galang and Willard Enrique R. Macaraan. "Digital Apostleship: Evangelization in the New Agora," Religions, 12, no. 2: 92 (2021): 2-12. https://doi.org/10.3390/rel12020092
Katambe, Narcis. "The Act of the Apostles and the Mission" in Missio ad Gentes in the Act of the Apostles, ed. Fabrizio Meroni. Roma: Urbania University Press, 2019, 53-68.
Lucia Ponde-Mutsvedu and Sophia Chirongoma. "Tele-evangelism, Tele-health and Cyberbullying in the Wake of the Outbreak of Covid-19 in Zimbabwe," in Fortune Sibanda, Tenson Muyambo, Ezra Citando (eds). Religion and the Covid-19 Pandemic in Southern Africa, pp. 103-114. New York, NY: Routledge, 2022.
Pilay, Jerry. "COVID-19 Shows the Need to Make Church More Flexible," Transformation, 37, no. 4 (2020): 266-275
Pakpahan, Gernaida K. R, Fibry J. Nugroho, Priskila I. Benyamin, Frans Pantan, and Wiryohadi Wiryohadi,. "Pandemic Ecclesiology: Church Re-actualisation During the Pandemic," HTS Theological Studies,77, no. 4 (2022): 1-8.
Onyekachi G. Chukwuma, "The Impact Of The COVID-19 Outbreaks on Religious Practices Of Churches in Nigeria," HTS Theological Studies, 77, no. 4 (2021): 1-9.
Sastrohartoyo Ardi, Rubin Adi Abraham, Jantje Haans, Tjahyadi Chandra, "The Priority of the Church's Ministry during A Pandemic," Evangelical: Jurnal Teologi Injili dan Pembinaan Warga Jemaat, 5, no. 2 (2021): 164-174.
Talbert, Charles H. Reading Acts: A Literary and Theological Commentary. Macon, GA, Smyth & Helwys Publishing, Inc., 2005.
Tendean, Jolf John, Bartholomeus Diaz Nainggolan, and Stimson Hutagalung, "Pandemic Covid-19, Health Literature and Great Commission," Grafta: Journal of Christian Religion Education and Biblical Studies 1, no. 1 (2021): 1-11.
Tshenolo J. Magidele and James N. Amanze. "Churches and COVID-19 in Botswana," in Fortune Sibanda, Tenson Muyambo, Ezra Citando (eds). Religion and the Covid-19 Pandemic in Southern Africa, pp. 172-185. New York, NY: Routledge, 2022.
White, Ellen G. Advent Review and Sabbath Herald, September 30, 1902, 7.
_______ Counsel on Health (Mountain view, CA: Pacific Press Publishing Association, 1923.
_______ Evangelism," Washington, DC: Review & Herald, 1946.
________Gospel Workers, Revised Ed. Review and Herald, 2005.
_______ Testimonies for the Church. Vol. 7. Boise, ID: Pacific Press, 1948.
Worchester, Paul. 10 Simple Ways to Evangelize During a Pandemic. Retrieved May 20, 2022, https://www.thegospelcoalition.org/article/10-ways-evangelize-pandemic/.
Kenneth D. Bailey, 1994. Methods of Social Research. New York: The Free Press, 1994.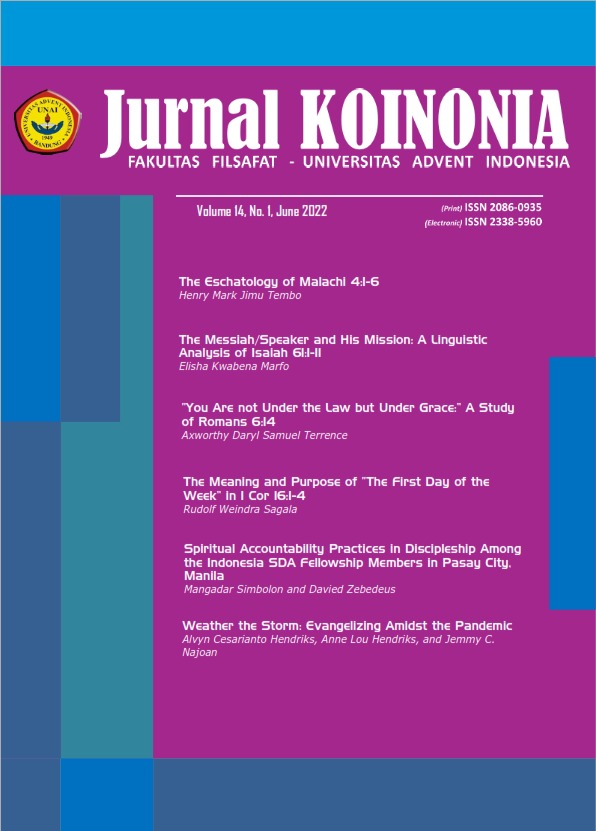 Downloads
How to Cite
Hendriks, A. C., Hendriks, A. L., & Najoan, J. C. . (2022). Weather The Storm: Evangelizing Amidst The Pandemic. Jurnal Koinonia: Fakultas Filsafat Universitas Advent Indonesia, 14(1), 72-85. https://doi.org/10.35974/koinonia.v14i1.2880