Artikulasi Persatuan Paulus: Keinginan Daging dan Keinginan Roh
Keywords:
Persatuan, Keinginan Roh, Historical-Grammatical Method, Keinginan Daging
Abstract
Pembahasan tentang keinginan daging dan keinginan roh selalu menjadi perhatian banyak sarjana Alkitab. Walaupun sudah banyak yang membahas tentang bagian ini, pembahasan topik ini dalam hubungannya dengan kesatuan gereja masih sangat jarang.  Itulah sebabnya, dengan menggunakan historical-grammatical method, artikel ini menganalisa secara kontekstual pembahasan tentang keinginan daging dan keinginan roh dalam Galatia dan hubunganya dengan persatuan dalam jemaat. Setelah sedikit gambaran tentang tema buku dan kondisi jemaat Galatia disedikan, analisa tentang peralihan topik yang terjadi, pembuatan diagram, studi kontekstual dari bagian yang dipelajari, dan analisa isi dari daftar keinginan daging dan keinginan roh selanjutnya dipelajari. Hasil studi menunjukkan bahwa diskusi Paulus tentang keinginan daging dan keinginan roh dalam buku Galatia secara khusus berada dalam konteks usaha Paulus untuk mempromosikan persatuan dalam gereja itu. Walaupun Paulus menyinggung tentang dosa-dosa yang lain yang disebutkan dalam keinginan daging, penekanannya yang paling utama dari penyampaian tentang perbandingan isi antara keinginan daging dan keinginan roh bertujuan untuk mengingatkan jemaat Galatia untuk bersatu dan menjauhi pertengkaran dalam gereja. Hasil dari pembahasan ini diharapkan akan memberkan sumbangsi dalam mengerti lebih jauh aspek-aspek eklesiologi, teristimewa dalam hal persatuan dalam gereja.
References
Belo, Yosia "Keinginan roh dalam Galatia 5:22-23 dan Penerapannya bagi Pendidikan Agama Kristen," Luxnos 6, 1. (Juni 2020): 89-95.
Bounds, Christopher T "New Testament Considerations ofn Unnity and 'Amicable Separation' in the United Methodist Church," The Asbury Journal 69. 2. (2014): 84-110. DOI: 10.7252/Journal.02.2014F:07.
Bruce, F. F. The Epistle to the Galatians, The New International Greek Testament Commentary. Grand Rapids, Eerdmans, 1985.
Carson, D. A & Douglas J. Moo, An Introduction to the New Testament. Grand Rapids, MI: Zondervan, 2005.
Crowther, Steven S. "The Fruit of the Spirit in the Context of Leadership," Journal of Biblical Perspective in Leadership 7, no. 1 (Fall 2017): 24-34.
Danker, Frederick W. Walter Bauer, and William F. Arndt, A Greek-English Lexicon of the New Testament and Other Early Christian Literature. Chicago: The University of Chicago Press 2000.
Davidson, Richard M. "Biblical Interpretation" in Handbook of Seventh-day Adventist Theology: Commentary Reference Series, Vol. 12. Hagerstown, MD: Review and Herald, 2000, 58-104.
Fowler, James A. A Commentary on the Epistle to the Galatians: The Gospel versus Religion. Fallbrook, California, 2006.
Friberg, Timothy, Barbara Friberg, and Neva F. Miller. Analytical Lexicon of the Greek New Testament. Grand Rapids, MI: Baker Books, 2000
Fung, Ronald Y. K. The Epistle to the Galatians. The New International Commentary on the New Testament. Grand Rapids, MI: Eerdmans, 1988.
Gingrich, F. Wilbur. Shorter Lexicon of the Greek New Testament, rev. Frederic W. Danker. Chicago: The University of Chicago Press, 1993.
Hietanen, Mika Paul's Argumentation in Galatians: A Pragma-Dialectical Analysis. New York, NY: T&T Clark International, 2007.
Kirchschlaeger, Peter G. "The Relation between Freedom Love, Spirit, and Flesh," Acta Thelogia 19 (2014): 130-142
Kloha, Jeffrey "The Lordship of Christ and the Unity of the Church," Concordia Journal 39. 4 (2013): 275-281.
Meckeever, Jeff. "The Literary Device of Inclusion," Union Lake Baptist Church diakses 25 November 2021, http://www.ulbap.org/wp-content/uploads/2014/10/Inclusio-Examples.pdf.
Nwanguma, Chibuzo Ikechi "Paul's idea of Conflict between the Spirit and the Flesh (Galatian 5:13-18) in the relation to Plato's concept of Soul with Reference to Freud's Psychology of the Mind," International Journal Theology and Reformed Tradition, 6. (Oktober, 2014): 151-162.
Platt, David dan Tonny Merida, Exalting Jesus in Galatians. B&H Publishing Group, 2014.
Powell, Mark Allan. Introducing the New Testament: A Historical, Literary, and Theological Survey. 2nd ed. Grand Rapids, MI: Baker Academic, 2018.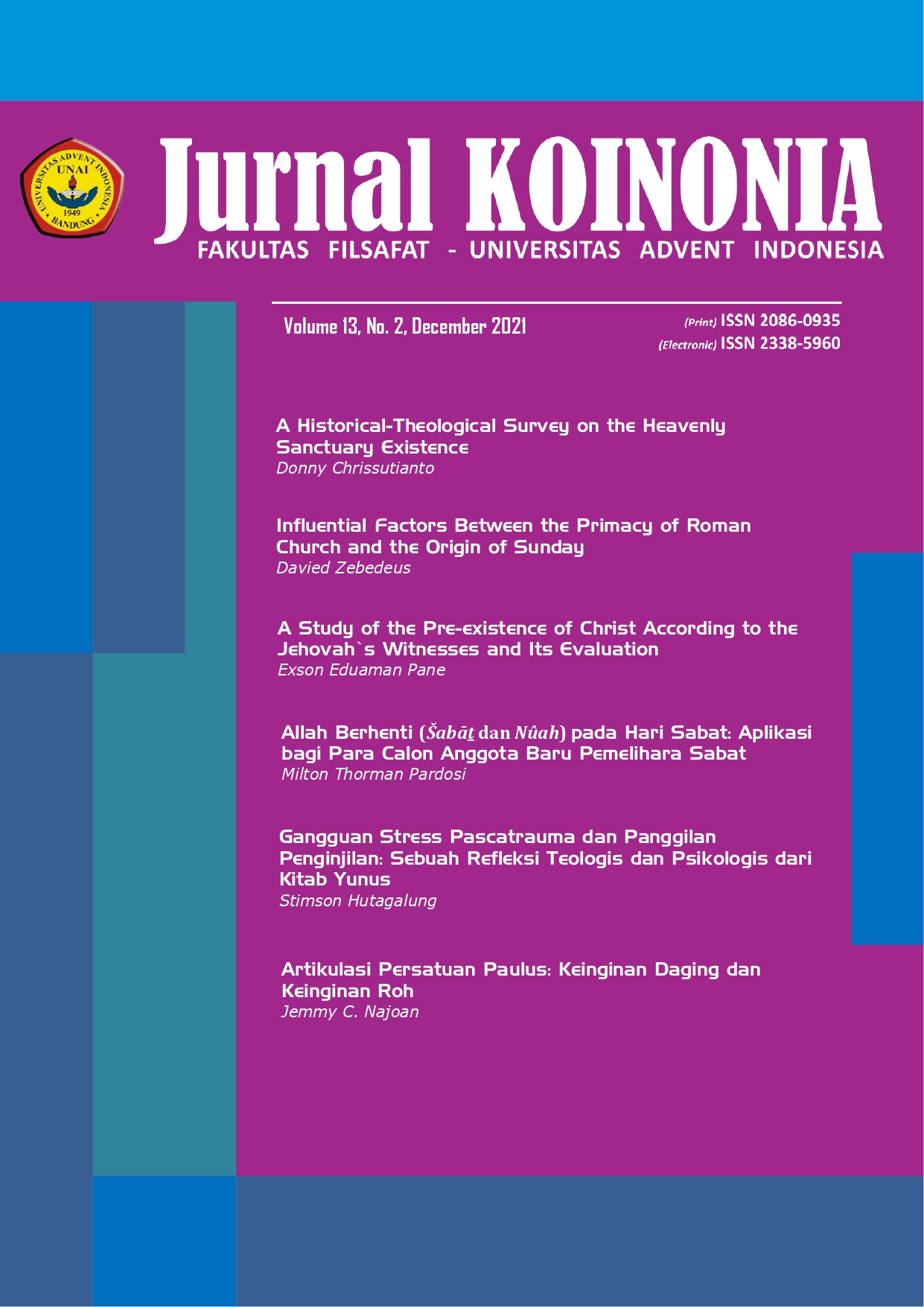 Downloads
How to Cite
Najoan, J. C. (2021). Artikulasi Persatuan Paulus: Keinginan Daging dan Keinginan Roh. Jurnal Koinonia: Fakultas Filsafat Universitas Advent Indonesia, 13(2), 134-149. https://doi.org/10.35974/koinonia.v13i2.2698