Data Mining Implementation in Determining the Correlation Between Student Attitude Violations at Purwodadi Adventist High School Environment Using the Association Rule Algorithm
Keywords:
Data Mining, Association Rule, Violations Committed, Fp-Growth
Abstract
The student is a "student subject" in which human values ​​as individuals, who as social beings who have a moral identity, need to be developed to reach a level of a process to achieve ideal results and the criteria for life as a human being expected by the nation and state. This study allows researchers to find the correlation value between data violations among students of the Adventist Purwodadi High School. Violation data is calculated using the association rule method using the FP-Growth algorithm. Namely by combining violation data based on attributes, namely the types of violations committed. The results received will provide information on the correlation of the hidden violations of 2016-2020 students at the Purwodadi Adventist High School. This study found 27 association rules. The results obtained are expected to be able to assist schools in arranging their students to suit the vision and mission of the Purwodadi Adventist High School.
Downloads
Download data is not yet available.
References
M. Strategi Belajar Mengajar, Surabaya: Citra Media, 2005.
S. S. Willis, Remaja dan Masalahnya, Bandung: Alfabeta, 2010.
W. S. Sarlito, Psikologi Remaja, Jakarta: Raja Grafindo Pustaka, 2012.
M. Kun and S. Juju, Sosiologi untuk SMA dan MA Kelas X, Jakarta: Esis, 2007.
H. Jiawei and M. Kamber, Data Mining: Concepts and Techniques, 2nd Edition, San Fransisco: Morgan Kaufmann Publishers, 2006.
A. A. Fajrin and A. Maulana, "Penerapan Data Mining Untuk Analisa Pola Pembelian Konsumen Dengan Algoritma FP-Growth Pada Data transaksi Penjualan Spare Part Motor," Kumpulan Jurnal Ilmu Komputer (KLIK), pp. 27-36, 2018.
Y. W. Wahdi, "Implementasi Data Mining Untuk Analisa Tingkat Pelanggaran Lalu Lintas Dengan Algoritma Association Rule," Ruang Teknik Journal, pp. 105-112, 2018.
Y. S. Nugroho, "Data Mining Menggunakan Algoritma Naive Bayes Untuk Klasifikasi Kelulusan Universitas Dian Nuswantoro," pp. 1-10, 2014.
D. Samuel, "Penerapan Struktur FP-Tree dan Algoritma FP-Growth dalam Optimasi Penentuan Frequent Itemset," Institut Teknologi Bandung, 2008.
I. Ali, Manajemen Peserta Didik Berbasis Sekolah, Jakarta: Bumi Aksara, 2011.
E. T. Luthfi and Kusrini, Algoritma Data Mining, Yogyakarta: Andi Offset, 2009.
S. Budi, Data Mining Teknik Pemanfaatan Data Untuk Keperluaan Bsinis, Yogyakarta: Graha Ilmu, 2007.
I. Pramudiono, "http://datamining.japati.net," 16 Januari 2007. [Online]. Available: http://datamining.japati.net/cgi-bin/indodm.cgi?bacaarsip&1155527614&artikel.
U. David, "Mining an Online Auctions Data Warehose,," in Proceedings of MASPLAS'02 the Mid-Atlantic Student Workshop on Programming Languages and System Pace University, 2002.
kemdikbud, "PENETAPAN KRITERIA KETUNTASAN MINIMAL," [Online]. Available: https://pklk.gtk.kemdikbud.go.id/webpage/show_pdf_article/artikel/2e01e17467891f7c933dbaa00e1459d23db3fe4f.
J. Han, J. Pei and M. Kamber, Data mining, concepts and techniques., Elsevier, 2011.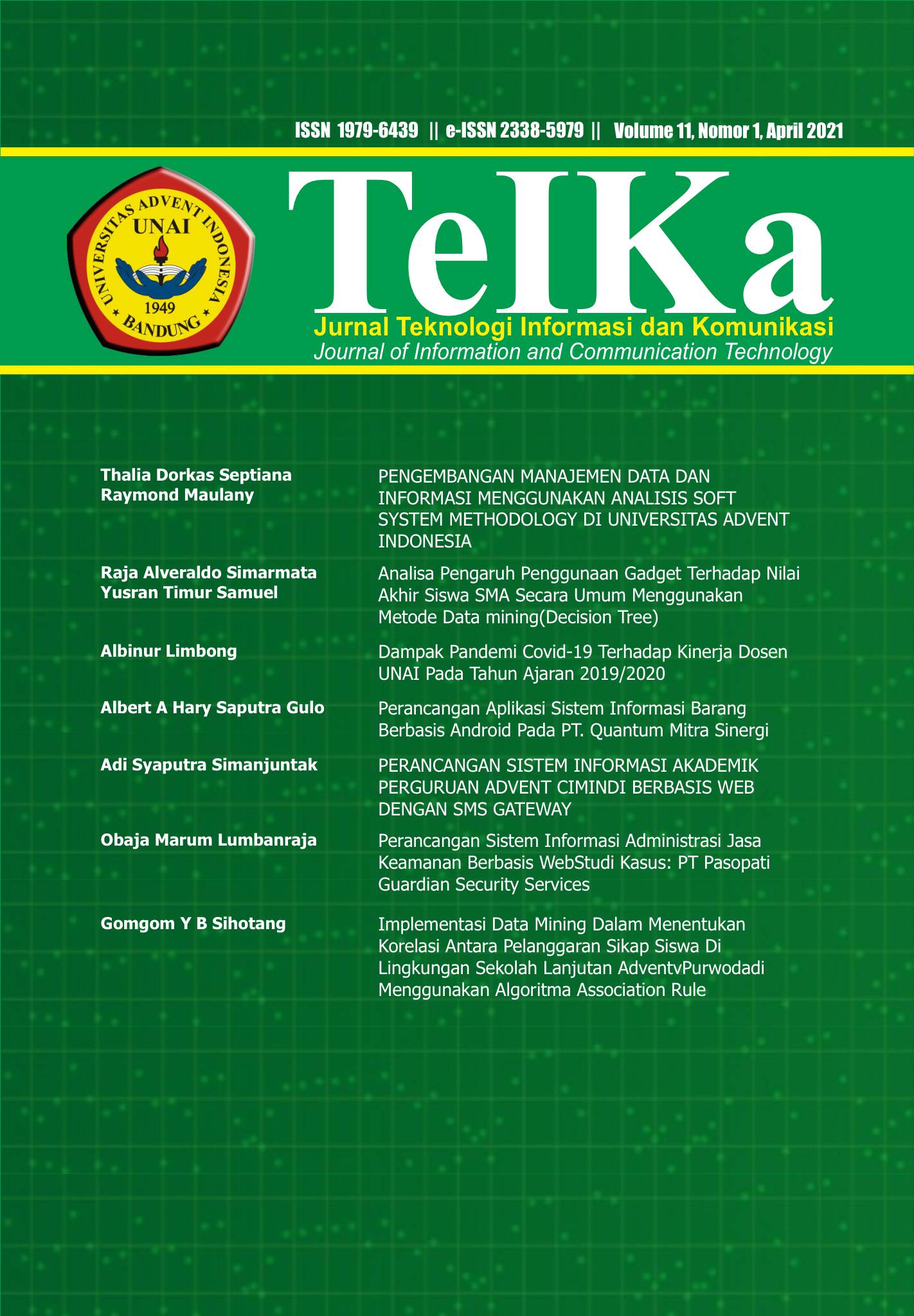 Downloads
How to Cite
Sihotang, G. Y. B. (2021). Data Mining Implementation in Determining the Correlation Between Student Attitude Violations at Purwodadi Adventist High School Environment Using the Association Rule Algorithm. TeIKa, 11(1), 87-98. https://doi.org/10.36342/teika.v11i1.2479
License
Copyright (c) 2021 TeIKa
This work is licensed under a Creative Commons Attribution-ShareAlike 4.0 International License.
The submitting author warrants that the submission is original and that she/he is the author of the submission together with the named co-authors; to the extend the submission incorporates text passages, figures, data or other material from the work of others, the submitting author has obtained any necessary permission.

Articles in this journal are published under the Creative Commons Share Alike Attribution Licence (CC-BY-SA  What does this mean?). This is to get more legal certainty about what readers can do with published articles, and thus a wider dissemination and archiving, which in turn makes publishing with this journal more valuable for you, the authors.

By submitting an article the author grants to this journal the non-exclusive right to publish it. The author retains the copyright and the publishing rights for his article without any restrictions.