Students' Perception in applying lesson Study in Teaching Introduction to Linguistics
Keywords:
Student's perception, Teaching, Linguistics
Abstract
Lesson Study is an approach used in learning process. It has attracted educators, experts, and professional in the area to make use of it in proving the lesson. This study focuses on the students' perception in applying Lesson study of teaching Introduction to Linguistics. As this case study, it will focus on Introduction to Linguistics subject. Interview and questionnaire was used to collects information on how Lesson study was normally conducted and observation was used to see the real implementation of Lesson study and during the teaching and learning process become a great attention here.
Keywords: lesson study, linguistics, perception
Downloads
Download data is not yet available.
References
Griffiths, Patrick. (2006). An Introduction to English Semantics and Pragmatics. Edinburgh University Press.

UKMcManis, Carolyn.&Deborah, S.&Zhang Z. (1987). Language Files. The Ohio State University Department of Linguistics. US

Binus Library. (2017). Bab II Tinjauan Pustaka 2.2.1 Definisi Persepsi Dalam Kamus Lengkap Psikologi. Error! Hyperlink reference not valid.

Davies, Alan.,&Catherine,E. (2004). The Handbook of Applied Linguistics. Blackwell Publsihing. Australia

Dawson,Catherine. (2002). Practical Research Methods: A user-friendly guide to mastering research techniques and projects. Cromwell.UK

Doig,Bria.,&Susi,grove. (2011). Japanese Lesson Study: Teacher Professional Developmentthrough Comunities of Inquiry. Mathematics Teacher Education and Development. Vol 13.1 77-93

Dominguez, Joaquin A. (1991). The Role of Morphology in the Process of Language Acquisition and Learning. Revista Alicantina de Estudio Ingleses. Vol4 37-47

Kracht,Marcus. (2007). Introductio to Linguistics. Departement of Linguistics, UNLA. Los Angeles

Matanluk, Katina.& Khalid, J.& Ovelyn,M. (2012) Elsevier Journal. The Perception of Teachers and Students toward Lesson Study

Implementation at Rural School of Sabah: A Pilot Study. Procedia - Social and Behavioral Sciences 90 (2013) 245 – 250.

Miller, Jim. (2002). An Introduction to English Syntax. Edinburgh University Press. UK

Nashruddin,Wakhid., Dian N. (2016). The Implementation of Lesson Study in English Language Learning: A Case Study. Dinamika Ilmu. Vol 16 (2) -178.

Riduwan. (2012). Belajar Mudah Penelitian until Guru-Karyawan dan Peneliti Pemula. Alfa. Banding

Tracy,Sarah J. (2013). Qualitative Research Methods: Colecting, Evidence, Crafting Analysis, Communicating Impact. Wiley-Blackwell. UK

Yule, George. (1996). Pragmatics. Oxford University Press. UK

Wagner,L.,&Lauren,D.,&Letitia,R. (2009). Children's Early Productivity with verbal Morphology. Cognitive Development. Vol 24 223-239.

Zaccarella, E. &Lars, Mr., & Michiru, M. & Angela,D. (2017). Building by Syntax: The NeuralBasis of Minimal Linguistic Structure. Ceberal Cortex. Vol 27, 421.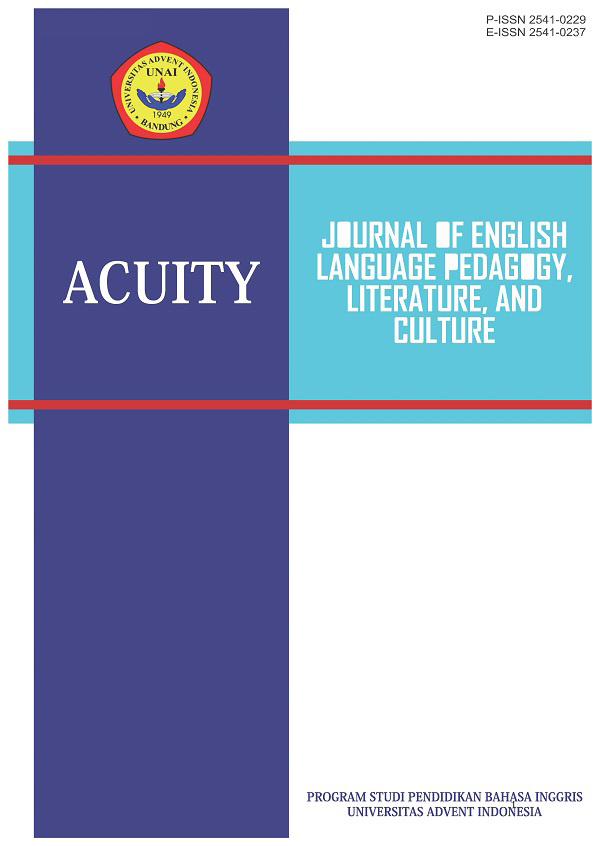 Downloads
How to Cite
[1]
I. L. & Trisnendri Syahrizal, "Students' Perception in applying lesson Study in Teaching Introduction to Linguistics", JELPEDLIC, vol. 2, no. 2, pp. 69-81, Aug. 2017.