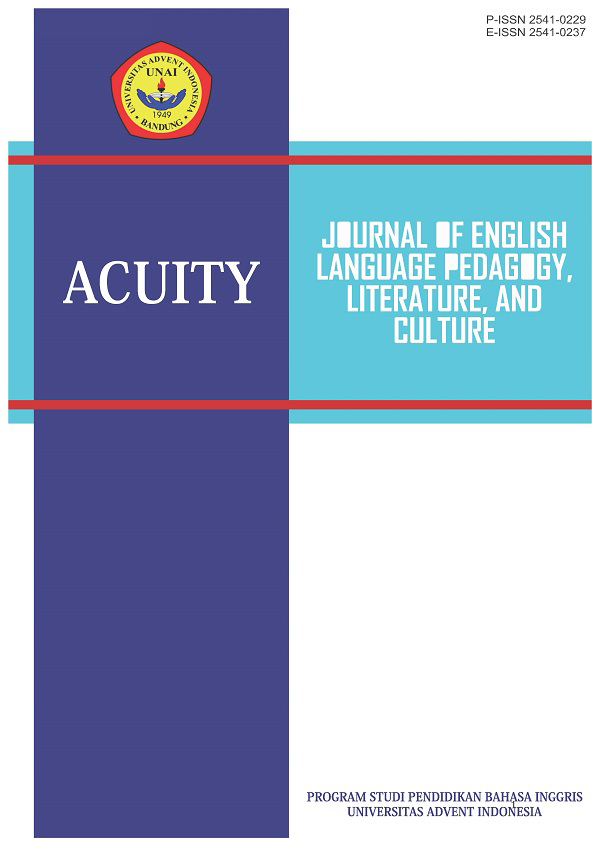 Current Issue
Vol 4 No 2 (2019): Acuity Journal of Language Pedagogy, Literature & Culture
View All Issues
Editorial Board:
Executive Officer: Chair of the English Department
Debora C. Simanjuntak, MA.Ed (email: deborachaterins@gmail.com)
Chief Editor: Caroline V Katemba, Ph.D. (email: ctobing@unai.edu)

Editorial members & Peer Reviewers:
Bill G. Wullur MA (TESOL) Ph.D. Candidate - Curtin University, Australia
Emmanuel Songcuan., Ph.D. Don Mariano Marcos Memorial State University South La Union Campus Agoo, Philippines
Anne M Hendriks MM., Ph.D. Candidate, Adventist International of Advanced Studies, Philippines
Joseph L. Tobing MSc, Washington Adventist University, DC, United State of America
Nur Hafiz Abdurahman, University of Leicester, U.K.
Ronny Kountur, Ph.D. Asian-Pacific International University Thailand
Pearl Villamarzo, Ph.D. (TESL) " University of Santo Thomas, Manila-Philippines
Nelson B. Panjaitan, MA " Universitas Advent Indonesia, (UNAI)
Ronald Elicay, Ph.D. (Research) – University of Ateneo de Naga, Philippines
Linda Mallen, Ph.D. (TESL)- AMA Computer, Manila-Philippines
Jocelyn Ully L Tobing.BA.Eng, MA (English), Washington Adventist University, DC, United State of America
Wiji Zubaedah Lestari, Universitas Islam Nusantara (UNINUS)
Dr. Jenny Pakasi Dip.TESL.MA, Universitas Sam Ratulangi Manado -Indonesia
Dr. Arnel Gonzala – Jiling University China
Marlin Marpaung, Universitas Advent Indonesia
Website: Raymond Maulany, M.Kom
Reviewing Process:
After manuscripts are submitted online, the screening committee conducts an initial screening process. The managing editor assigns each manuscript that has passed the screening process to two associate editors for reviews. The assistant managing editor collects the reports of the two reviewers, and if both concur that the article is publishable, the assistant managing editor sends the article with the collected reports and recommendations to the managing editor. In consultation with the editor in chief, the managing editor makes the final decision on the acceptance of the manuscript and supervises revision and preparation for production. The whole review process normally takes more than six months.
Frequency Publication:
Electronic issues are published in January and August.
Aims and Scope:
Journal of English Language Pedagogy, Literature, and Culture (Jelpedlic) is the research journal for the Teaching of English, Literature & Culture. It publishes research-based articles, reviews, and poems, which reflect on every aspect of English teaching. The journal also considers new developments in literacy, drama, film, literacy studies, literature, language, media, and new technologies as they pertain to the teaching of English.
It also seeks to provide a forum for an open exchange of ideas, based on research and serious professional reflection on both the theoretical underpinning of practice and practical applications of theory. English Pedagogic welcomes contributions from all English teachers nationwide as well as fresh voices with something new to contribute to the community.
Author Fees:
All articles are made immediately available nationwide under an open-access license. This means:
everyone has free and unlimited access to the full-text of all articles published in these journals, and
everyone is free to re-use the published material if proper accreditation/citation of the original publication is given.
Journal of English Language Pedagogy, Literature, and Culture is a nonprofit Journal, does NOT charge publication/processing fees from the Author(s). NO subscription fee is levied for Libraries / Individuals. NO fee is levied for accessing published articles.
Ownership:
The Journal of English Language Pedagogy, Literature, and Culture is owned and copyrighted by Universitas Advent Indonesia.