Assimilation as the Impact of Diaspora Reflected in Mrs. Parker's Family in Karate Kid Film
Keywords:
Diaspora, immigration, assimilation, home country, host country
Abstract
Concerning the major issue as to how the diasporan group faces the assimilation, diaspora brings to mind several assumptions; it can be positive and negative to adapting one's identity. Diaspora gets affected by some aspects of life such as culture, language, people, and place. The immigrants who moved or scattered from their home countries depend on how they can adapt to the new cultures, languages, and so on to new communities in the host countries that are different from theirs. This study aims to find out how the impact of diaspora perceived by analyzed the main characters during their process of diaspora. The approach of this study was descriptive qualitative research through the process of gathering the data qualitatively and reporting them descriptively. This study shows how the issue of diaspora relates to assimilation as the impact of the diaspora is reflected in Karate Kid film. The result of this study showed that the diasporan group integrates and possible to become a new type of human being as an immigrant in the new land. It represents assimilation in adoption values that exist in the host country.
Downloads
Download data is not yet available.
References
Anteby, Lisa, Yemini and Berthomière William. (2005). Diaspora: A Look Back on a Concept. Open edition Journals 16, 267-270.
Bardis, Panos. (1979). Social Interaction and Social Processes. Toledo University, Toledo, Ohio, USA. Web.
Barna, Bodó. (2010). Internal Diaspora–Assimilation- Formation of the Internal Diaspora. European and Regional Studies 1:1. Department of European Studies University Cluj-Napoca
Briziel, Jana Evans & Annita Mannur. (2003). Theorizing Diaspora A Reader. Oxford: Blackwell Publishing
Butler, D Kim. (2001). Defining Diaspora. Refining a discourse 10:2
Clifford, James. (1994). Diaspora. Cultural Anthropology, 9.
Chong, Kim-Chong. (2007). Early Confucian Ethics. Chicago, IL: Open Court.
Hancock, B., Ockleford, E., & Windridge, K. (2009). An Introduction to Qualitative Research. National Institute for Health Research (NIHR). The NIHR RDS EM/YH.
Katemba, C. V, & Tobing, J. H. . (2020). The "Hidden Pleasures" in Seagram's advertisements: The Art of Persuasion. Jurnal Ekspresi Seni: Jurnal Ilmu Pengetahuan Dan Karya Seni, 22(2), 2580–2208. http://dx.doi.org/10.26887/ekspresi.v22i2.1278
https://journal.isi-padangpanjang.ac.id/index.php/Ekspresi/article/view/1278
Mishra, Vijay. (1996). The Diaspora Imaginary. Theorizing the Indian Diaspora, Textual Practice 10:1, 422-423.
Park, Robert. (1928). Human Migration and the Marginal Man. American Journal of Sociology, 33, 881-893.
Rarick A. Charles. (2007). Confucius on management: Understanding Chinese Cultural Values and Managerial Practices. Journal of International Management Studies.
Şerban, Anca Teodora, and Oprescu. (2013). From Exile to Diaspora and from National to Transnational Binds under the Driving Forces of Globalization. Journal of International Studies 6:1, 96-102.
Vertovec, Steven. (1997). Three Meanings of Diaspora. Exemplified among South Asian Religions
Williams, Raymond. (1958). Culture is ordinary. N. McKenzie (ed).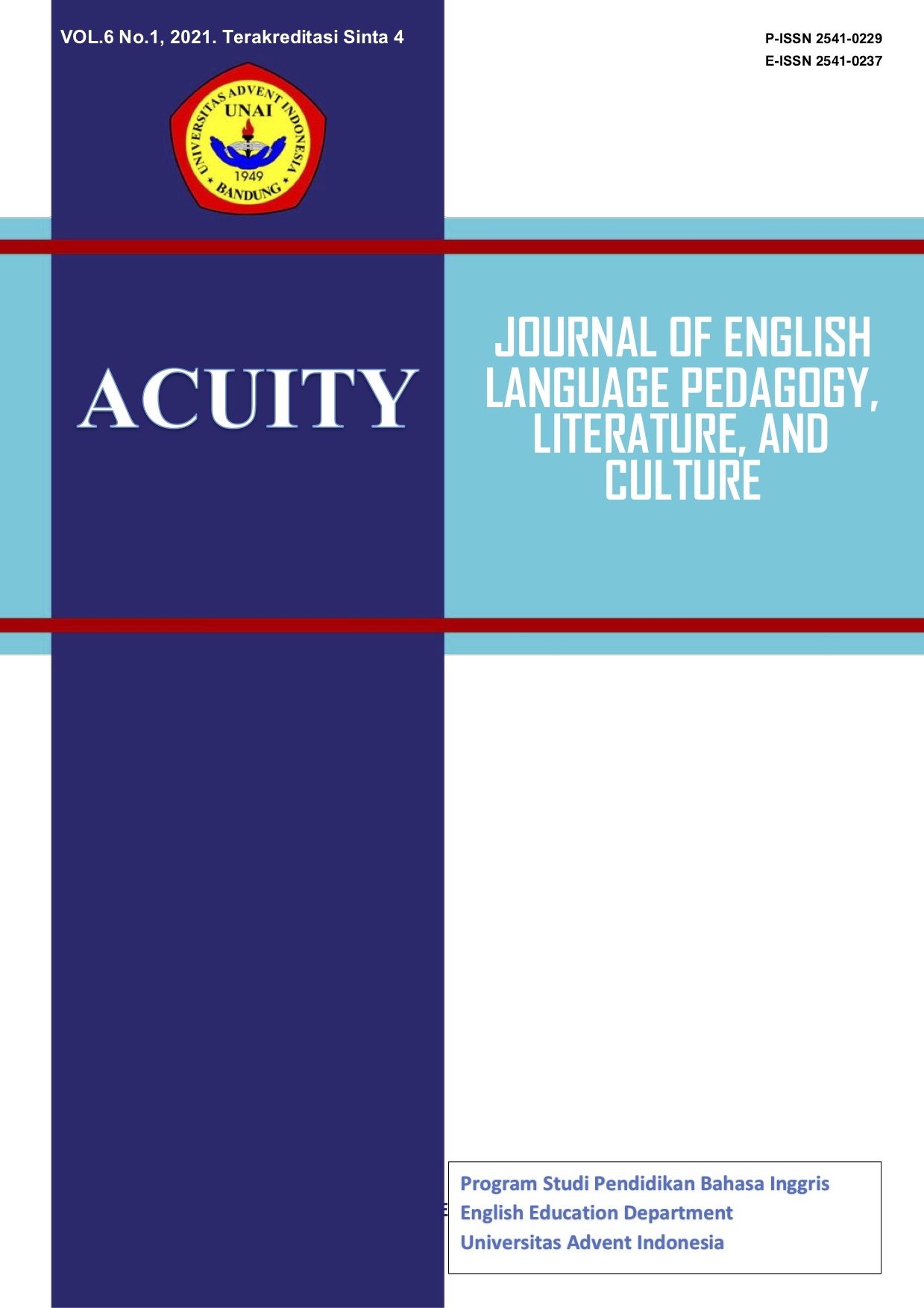 Downloads
How to Cite
[1]
I. . Baldatun and A. . Murtiningrum, "Assimilation as the Impact of Diaspora Reflected in Mrs. Parker's Family in Karate Kid Film", JELPEDLIC, vol. 6, no. 1, pp. 51-62, Dec. 2020.