Stylistics: An Analysis of Roald Dahl's George's Marvelous Medicine and The Girrafe and The Pelly and Me to Provide Insights on Establishing Writing Style
Abstract
This study aims to provide insights on establishing writing style through stylistic analysis on Roald Dahl's George Marvelous Medicine and The Giraffe and The Pelly and Me. This is a qualitative study which focuses on literary analysis. The data was collected from those two books. Evidently this study will bring benefit to English majors to gain insights on how to establish effective writing style. The findings of this study show that Dahl has four outstanding elements for writing style: Lead Sentences, Rhyme-schemed poem, Peculiar Chosen Words, and Concept of Personification. Although Dahl's books have great insight on establishing one's writing style, there are some positive and negative influence that should be considered in reading Dahl's masterpieces.
Keywords: Stylistics, elements of writing style, literary analysis
Downloads
Download data is not yet available.
References
Anderson, L. (2005). (Eds). Creative writing. Routledge.
Barr, et al. 2007. Reading diagnosis for teachers: an instructional approach. Pearson: National-Louise University.
Bauman-Waengler. Introduction to Phonectics and Phonology from concepts of transcription. Pearson Beard. R.
Brandon, R. (2004) Ed. The little red writing book (Edited by Jane Friedman). Writer's Digest.
Cullinan, B.C., (2005). The continuum encyclopedia of children's literature. Continuum Publishing Company.
Cullingford, C. (2000) Eds. Children's Literature and its effects. York House.
Fisher, O., Kemenade, A.V., Koopman, W., Wurff, W.V. (2004). The syntax of early English. Cambridge.
Gavins, J & Steen, G. (2003) Ed. Cognitive poetic in practice. Routledge.
Hoover, D.L & Lattig, S. (2007) Ed. Stylistics: prospect and retrospect. Rodopi: Amsterdam.
Langosch, S.L (2004). Wriitng American style on ESL/EFL. Handbook. Barron's.
Ramet, A. (2004). Creative writing: how to unlock your imagination, develop your writing skills, and get published (5th Ed.). How to Books, Ltd.
Simpson, P. (2004). Stylistics: A resource book for students. Routledge.
Stockwell, P. & Whiteley, S. (2014) Eds. Stylistics. Cambridge University Press.
Quinn, A. (2012). Figures of speech: 60 ways to turn a phrase. Routledge.
Wright, L. & Hope, J. (2005). Stylistic: A practical course book. Routledge.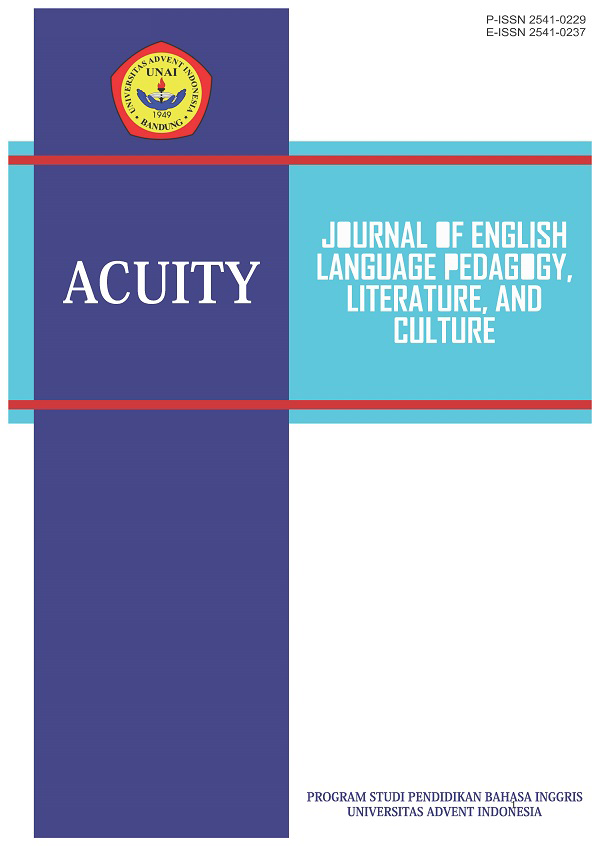 Downloads
How to Cite
[1]
D. C. Simanjuntak S., MAEd, "Stylistics: An Analysis of Roald Dahl's George's Marvelous Medicine and The Girrafe and The Pelly and Me to Provide Insights on Establishing Writing Style", JELPEDLIC, vol. 1, no. 2, pp. 52-65, Jan. 2016.