Kindergarten Students Acquire Basic English Literacy Through Letterland: A Case Study
Abstract
This study aims to help kindergarten students to acquire basic literacy in English through the use of Letterland which is believed to be a fun and exciting program which can produce a natural outcome. This study utilizes qualitative and quantitative approach. The research design of this study is case study in order to make intensive analysis on how kindergarten students acquire Basic English literacy through Letterland. The study presents a description on how effective and helpful Letterland is in helping kindergarten students acquire basic literacy. This study can be used to provide local teachers or educators with the ideas in implementing the phonics approach in teaching Basic English literacy. There are number of factors that enable students to acquire the Basic English literacy; however, this study focuses on the application of Letterland. Findings showed that Letterland is useful to help kindergarten students in school K in acquiring Basic English literacy. Students recognized the initial, medial and final sounds. The teachers implemented Letterland with a proper class settings, sufficient teaching aids, and proper teaching-learning process.
Keyword Letterland, Basic English Literacy, Kindergarten
Downloads
Download data is not yet available.
References
Anita, T. (2008). Teaching reading through the phonics approach to kindergarten students: A Case Study. Jakarta: Universitas Katolik Indonesia Atmajaya.
Blevins, W. (2001). Teaching phonics and word study in the intermediate grades: a complete sourcebook. New York: Scholastic Professional Books.
Cameron, L. (2001). Teaching langauges to young learners. New York: Cambridge University Press.
Campbell, S., Torr, J., Cologon, K. (2014). Pre-packaging Preschool Literacy: What Drives Early Childhood Teachers to Use Commercially Produced Phonics Program in Prior to School Settings. Contemporary Issues in Early Childhood. 15 (1). 40-53
Cook, v. (2004). The English writing system. London, UK: Arnold Publishers.
Daswani, C.K. (1999). Literacy an oracy: literacy. In Spolsky, B. Concise Encyclopedia of Educational Linguistics. Selected reading. 159-166. Cambridge Unviersity Press, UK>
Garton, A.F. & Pratt, C. (1998). Learning to be literate: the developmental of spoken and written language. Blackwell Publishers: Oxford UK.
Green, C. (1990). Assessing kindergarten children's writing's dimensions.
Katemba, C.,V., & Samuel (2017). Improving Student's Reading Comprehension Ability Using Jigsaw 1 Technique . Acuity : Journal of English Language Pedagogy,
Literature and Culture Vol 2 No.2 2017 http://jurnal.unai.edu/index.php/acuity/article/view/613/468
Leong, C.K & Randhawa, B.S. (2012) (Eds). Understanding Literacy and Cognition: Theory, Research, and Application. Springer.
Maharani, P. (2007). Applying synthetic phonics on teaching reading to children. Jakarta: Unversitas Katolik Indonesia Atmajaya.
Piazza, C.L. (1987). Identifying context variables in research on writing: A review and suggested directions. Written Communication. Vol. 4.
Poulson, L. et.al. (2001). The theoretical beliefs of effective teachers of literacy in primary schools: and exploratory study of orientations to reading and wrting. Research Papers in Education. 16 (3). 271-292.
Smith, F. (1982). Understanding reading: a psycholinguistic analysis of reading and learning to read. New York: CBS College Publishing.
Wendon, L. (1999). Letterland: teachers' guide. Cambridge: Letterland International.
Widdowson, H.G. (1971). Language teaching texts: a manual for teachers. Oxford: University Press.
Wray, D. & Medwell, J. (2014). Literacy and language in the primary years. Routledge.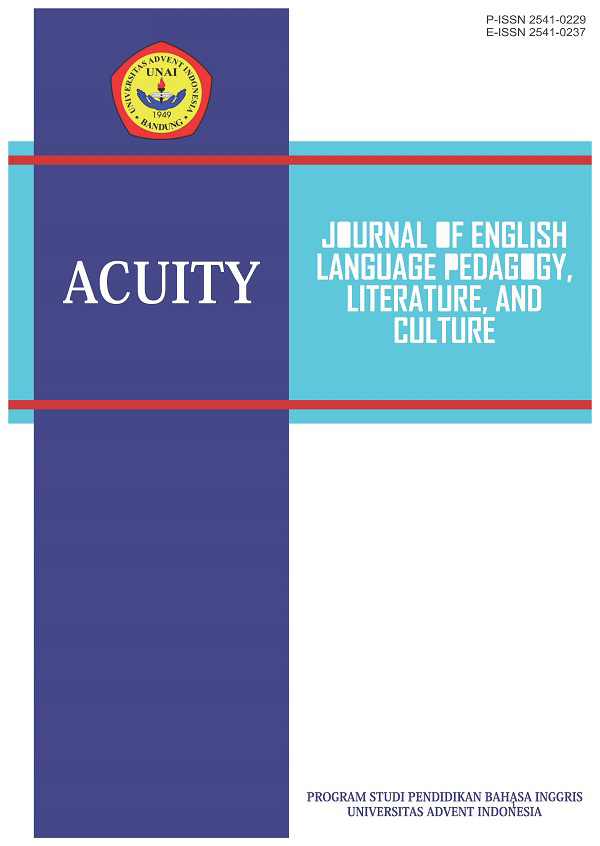 Downloads
How to Cite
[1]
J. E. Limbong, "Kindergarten Students Acquire Basic English Literacy Through Letterland: A Case Study", JELPEDLIC, vol. 3, no. 2, pp. 73-84, Aug. 2018.