Effectiveness Rosy Periwinkle (Catharanthus roseus L.) Decoction Toward Urea and Creatinine Serum Levels of Male Wistar Strain Rats with Acute Kidney Failure Model
Rani Meinora Situmeang

Universitas Advent Indonesia

Untung Sudharmono

Universitas Advent Indonesia
Keywords:
Gentamisin, Ureum, Kreatinin, Tapak Dara (Catharanthus roseus L.)
Abstract
Acute kidney failure is a disorder that occurs suddenly in the ability of the kidneys toinfiltrate blood, which is characterized by increased levels of urea and creatinine within a fewhours or days. This study aims to determine the effectiveness of the Rosy Periwinkle (Catharanthus roseus L. ) on the levels of urea and creatinine in male Wistar Strain with acutekidney failure models. The object of the study were30 male Wistar Strain Rats aged 2-3months with a weight of 180-200 grams per rat. The study was divided into three groups,namely the treatment group, positive control group, and negative control group. Each groupconsists of 10 male rats. Tread leaves taken as much as 5.2 grams are boiled in 300 cc ofwater until the remaining 100 cc of boiled water. The treatment group and positive controlgroup induced gentamicin 12 mg in 0.3 cc intraperitoneal / rat / day for 7 days. The treatmentgroup was given boiled water for as much as 3.6 cc / day orally for 7 days. Giving agentamicin injection to damage the kidneys. Data collection on urea and creatinine levels wascalculated using the SPSS program version 24 One Way ANOVA test to compare creatinineurea levels. The results showed that there were significant differences in creatinine urealevels between the treatment group and the positive control group (p <0.05). The conclusionof this study is that the boiled water of Rosy Periwinkle ( Catharanthus roseus L. ) is effectivein reducing the level of urea and creatinine of male Wistar Strain Rats with acute kidneyfailure models
Downloads
Download data is not yet available.
References
th Report Of Indonesian Renal Registry. (2017). Program Indonesian Renal Registry. https://www.indonesianrenalregistry.org/data/IRR%202017%20.pdf. [9 Oktober 2019]
Arifuddin, M., M. Bone, Iswahyudi, A. Ibrahim, L.O. Rijai. (2017). Isolasi Dan Karakterisasi Fungi Endofit Tanaman Tapak Dara (Catharanthus Roseus. J. Trop. Pharm. Chem, 4(1), 2407-6090
Balitbang Kemenkes RI. (2018). Riset Kesehatan Dasar; RISKESDAS. Jakarta: Balitbang Kemenkes RI
Bangun, Abednego. (2012). Ensiklopedia Tanaman Obat Indonesia. Bandung, Indonesia: Indonesia Publishing House.
Hurst, Marlene. (2015). Belajar Mudah Keperawatan Medikal Bedah. Jakarta : EGC
Laksmil, N. L. G. M. C., I. K. A. Dada, and I. M. Damriyasa. (2014). Bioaktivitas Ekstrak Daun Tapakdara (Catharanthus roseus) terhadap KadarKreatinin dan Kadar Ureum Darah Tikus Putih (Rattus norvegicus). Buletin Veteriner Udayana, 6(2), 2085-2495
LeMone, P., K. M. Burke, and G. Bauldoff. (2015). Buku Ajar Keperawatan Medikal Bedah. Jakarta : EGC.
Muharram, Adnan, A. Faqih, A. Jihadi. (2019). Uji Daya Konsepsi Ekstrak Metanol Daun Tapak Dara (Catharantus Roseus) Terhadap Mencit (Mus Musculus) ICR Jantan. Indonesian Journal of Fundamental Sciences, 5(1), 2621-6728
Putri, R. R., R. F. Hakim, and S. Rezeki. (2017). Pengaruh Ekstrak Daun Tapak Dara (Catharanthus Roseus) Terhadap Jumlah Fibroblas Pada Proses Penyembuhan Luka Di Mukosa Oral. Journal Caninus Denstistry, 2(1), 20-30
Rajak, Z. F. W., L. Loho, and P. Lintong. (2016). Gambaran histopatologik ginjal wistar yang diberi ekstrak binahong pasca pemberian gentamisin. Jurnal e-Biomedik (eBm), 4(2)
Rosdahl, C. B., M. T. Kowalski. (2012). Buku Ajar Keperawatan Dasar. Jakarta, Indonesia : EGC.
Samudera, A. G. (2017). Efektifitas Antipiretik Ekstraketanol Daun Tapak Dara (Catharantusroseus) Pada Mencit (Musmusculus). Jurnal Borneo Journal Of Pharmascientech, 1(1), 2548-3897
Soriton, H., P. V. Y. Yamlean, W. A. Lolo. (2014). Uji Efektivitas Ekstrak Etanol Daun apak Dara (Catharantus Roseus (L.) G.Don) Terhadap Penurunan Kadar Gula Darah Tikus Putih Jantan Galur Wistar (Rattus Norvegicus L.) yang Diinduksi Sukrosa. PHARMACON Jurnal Ilmiah Farmasi, 3(3), 2302-2493
Valerie A Luyckx, V.A., M. Tonelli, dan J. W. Stanifer. (2018). The global burden of kidney disease and the sustainable development goals. [Online]. Available:https://www.who.int/bulletin/volumes/96/6/17206441/en/. [9 October 2019]
Nejat, N., A. Valdiani, D. Cahill, Y. H. Tan, M. Maziah, R. Abiri, (2015). Ornamental Exterior versus Therapeutic Interior of Madagascar Periwinkle (Catharanthus roseus): The Two Faces of a Versatile Herb. The Scientific World Journal pp.1-19
Azizah, R. N., I. Santi, A. Marlian, (2019). Uji Nefroterapi Ekstrak Etanol Daun Afrika (Vernonia amygdalina Delile) dengan Parameter Ureum Tikus Putih Jantan yang Diinduksi Gentamisin. Window of Health : Jurnal Kesehatan, 2(2), 2614-5375
Purbosari, P.P., E. D. Puspitasari, (2018). Pengaruh Ekstrak Etanol Daun Tapak Dara (Catharanthus Roseus L.) Dan Kolkisin Terhadap Perkecambahan Biji Cabai Rawit Hibrida (Capsicum Annuum). Bioedukasi Jurnal Pendidikan Biologi, 9(2), 2442-9805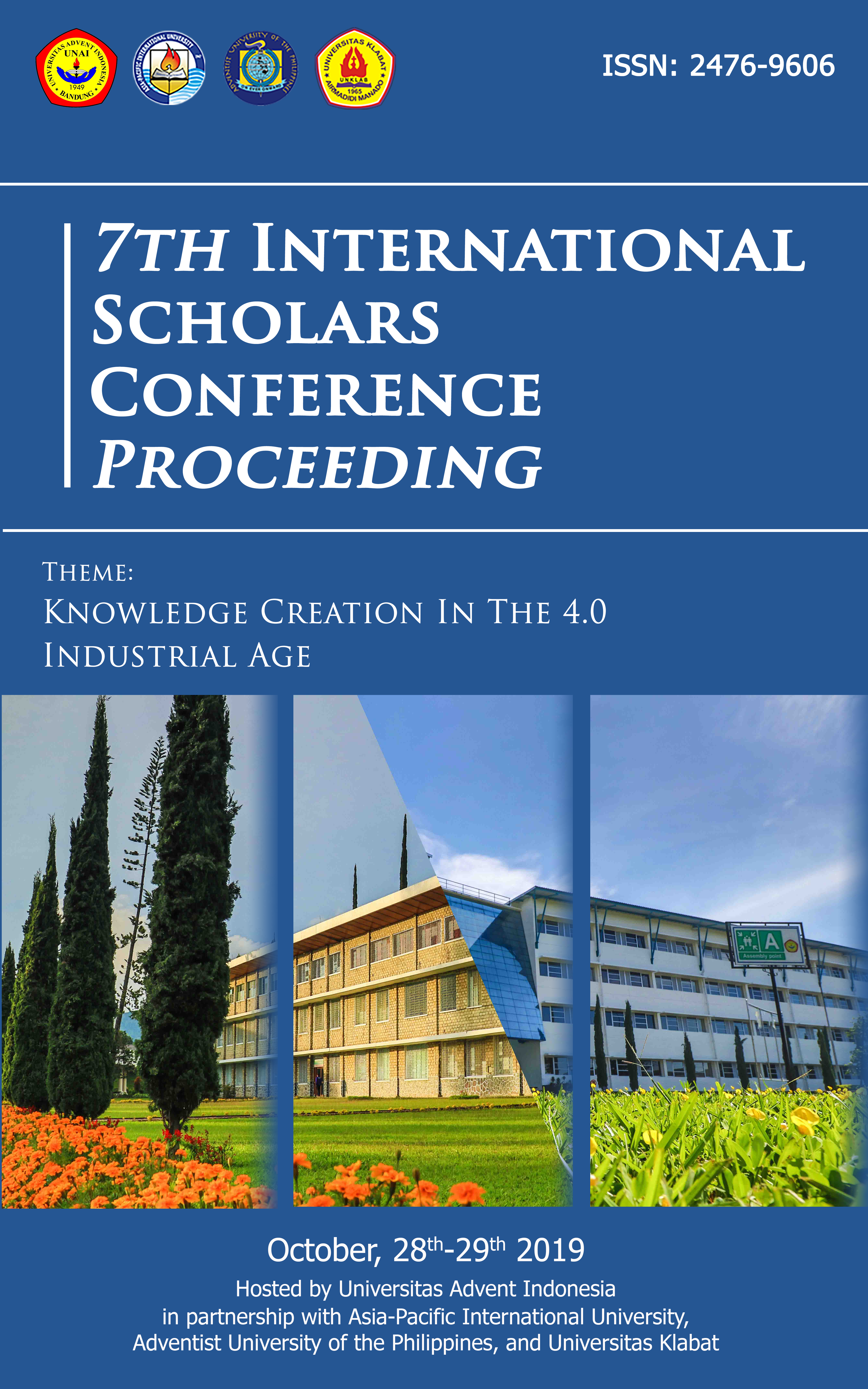 How to Cite
Situmeang, R., & Sudharmono, U. (2019). Effectiveness Rosy Periwinkle (Catharanthus roseus L.) Decoction Toward Urea and Creatinine Serum Levels of Male Wistar Strain Rats with Acute Kidney Failure Model. Abstract Proceedings International Scholars Conference, 7(1), 768-779. https://doi.org/10.35974/isc.v7i1.2081
Copyright (c) 2019 Abstract Proceedings International Scholars Conference
This work is licensed under a Creative Commons Attribution-ShareAlike 4.0 International License.
Copyright © 2019 ISC Committee.