Effectiveness of Boiled Figs Leaf (Ficus Carica L) Towards Ureum and Creatinin Serum of Male Wistar Strain Rats with Acute Renal Failure Model
Ralda Christina Ursula Pelealu

Universitas Advent Indonesia

Untung Sudharmono

Universitas Advent Indonesia
Keywords:
Gentamicin, Ureum Serum, Creatinine Serum, Ficus Carica L
Abstract
Acute renal failure is a set of clinical symptoms characterized by increased levels ofcreatinine and blood urea nitrogen and a rapids decrease in the rate of glomerular filtration.The Objectives of this study was to determine the effectiveness of brewed tin water (FicusCarica L) against urea and creatinine serum of male Wistar strain rats in acute renal Failure.The subject of the research were 30 male rats weighing 180-200 grams and 2-3 months old,which were divided into 3 groups, namely the negative control group, the positive controlgroup and the treatment group. Each group consisted of 10 rats. The negative control groupwas only given food and drink as usual. The positive control group and the treatment groupwere induced with gentamicin 12 mg / intraperitonial for 7 days to increase urea andcreatinine serum levels. The treatment group was given steeping treatment of 0.65 grams ofboiled figs leaf in 100cc of given 3.6cc/orally for 7 days. One way ANOVA test wasconducted to analyse the study using SPSS version 24. The results found there are nosignificant differences in urea serum levels between the treatment group and negative controlgroup (p = 0.252) but there were significant differences in the urea serum value between thetreatment group and positive control group (p <0.05). There was a significant difference inthe value of creatinine serum between the treatment group, the positive control group and thenegative control group (p <0.05). As Conclusions boiled figs leaf (Ficus Carica L) has aneffect on decreasing urea and creatinine serum levels in male wistar rats with acute renalfailure.
Downloads
Download data is not yet available.
References
Ahaddin Y, (2014). Isolasi dan Sitotoksitas Ekstrak Flavonoiddaun Tin (Ficus carica Linn). Bogor: IPB.
Andriati, A., & Wahjudi, R., (2016). Tingkat penerimaan penggunaan jamu sebagai alternative penggunaan obat modern pada masyarakat ekonomi rendah-menengah dan atas. Masyarakat dan Kebudayaan Politik. 29(3), 133-145. doi: http://dx.doi.org/10.20473 /mkp.V29I32016.133-145
Herdiani, E. 2012. Potensi Tanaman Obat Indonesia [Online]. Indonesia: BBPP Lembang. Retrieved from: http://www.bbpplembang.info/index.php/arsip/artikel/artikelpertanian/ 585-potensi-tanaman-obatindonesia
Joseph B, & Raj J, (2011). Pharmacognostic and phytochemical properties of Ficus carica Linn–An overview. International journal of pharmtech research, 3(1), 8-12.
Julung Hendrikus, Supiandi Markus Iyus, Ege Benediktus, Mahana Susriyati, Zubaidah Siti, (2018). Analisis Sumber Pengetahuan Tradisional Tanaman Obat yang Digunakan oleh Masyarakat Suku Dayak Desa. Proceeding of Biology Education. 2(1), 67-74. doi: https://doi.org/10.21009/pbe.2-1.9
Kementrian Kesehatan RI, (2017). Pusat Data dan Informasi. Situasi Penyakit Ginjal Kronis.
Prabowo, Eko & Pranata, Andi Eka (2014). Buku Ajar Asuhan Keperawatan Sistem Perkemihan. Yogyakarta:Nuha Medika.
Price, Sylvia A. & Lorraine M Wilson, (2012). Patofisiologi: Konsep Klinis Proses-proses Penyakit. Edisi 6. Volume 2. Alih Bahasa. Jakarta: EGC.
Putri, Oktavina Kartika, (2018). Kadar Fenolik Total dan Flavonoid Total Seduhan Daun Tin (Ficus carica) Segar dan Kering dengan Air Mendidih. JC-T (Journal Cis-Trans): Jurnal Kimia dan Terapannya). 2(2), 7-12. doi: http://dx.doi.org/10.17977/um026v2i22 018p007
Rosmiati, H. & Gan, V.H.S. (2003). Farmakologi dan Terapi. Jakarta: Gaya Baru.
Sari, I. D., Yuniar, Y., Siahaan, S., Riswati, M. S., (2015). Tradisi Masyarakat dalam Penanaman dan Pemanfaatan Tumbuhan Obat Lekat di Pekarangan. Jurnal Kefarmasian Indonesia. 5(2), 123-132. doi: 10.22435/jki.v5i2.4407.123-132
Sirisha, N., Sreenivasulu, M., Sangeeta, K., & Chetty, CM., (2010). Antioxidant properties of Ficus spesies-a review. Int J Pharm Tech Res. 2(4), 2174-2182.
Souza, V. B., Oliveira, R. F. L., Ferreira, A. A. A., & Araújo Júnior, R. F., (2008). Alterações renais por aminoglicosídeos. Arq Med, 22(4/5), 131-135.
Umadevi, S., Kumar, S., Joseph, M., Easow, M., Kandhakumari, G., Srirangaraj, S., Raj, S., Stephen, & S., (2011). Microbiological Study of Diabetic Foot Infections, Indian Journal of Medical Specialities. 2(1), 12-17. doi: 10.7713/ijms.2011.0004
Patil, V. V., Patil, V. R., (2011). Evaluation of anti-inflammatory activity of Ficus carica Linn. leaves. Indian J Nat Prod Resour. 2(2), 151-155.
Patil, V. S., Bhangale, S. C., Patil, V. R., (2010). Studies on immunomodulatory activity of Ficus carica. Int J Pharm Pharm Sci. 2(4), 97-99.
World Kidney Day, (2019). Kidney Health For Everyone Everywhere Campaign Toolkit. Retrieved from: https://www.worldkidneyday.org/wp-content/uploads/2018/09/2019WKD-Campaign-Toolkit.pdf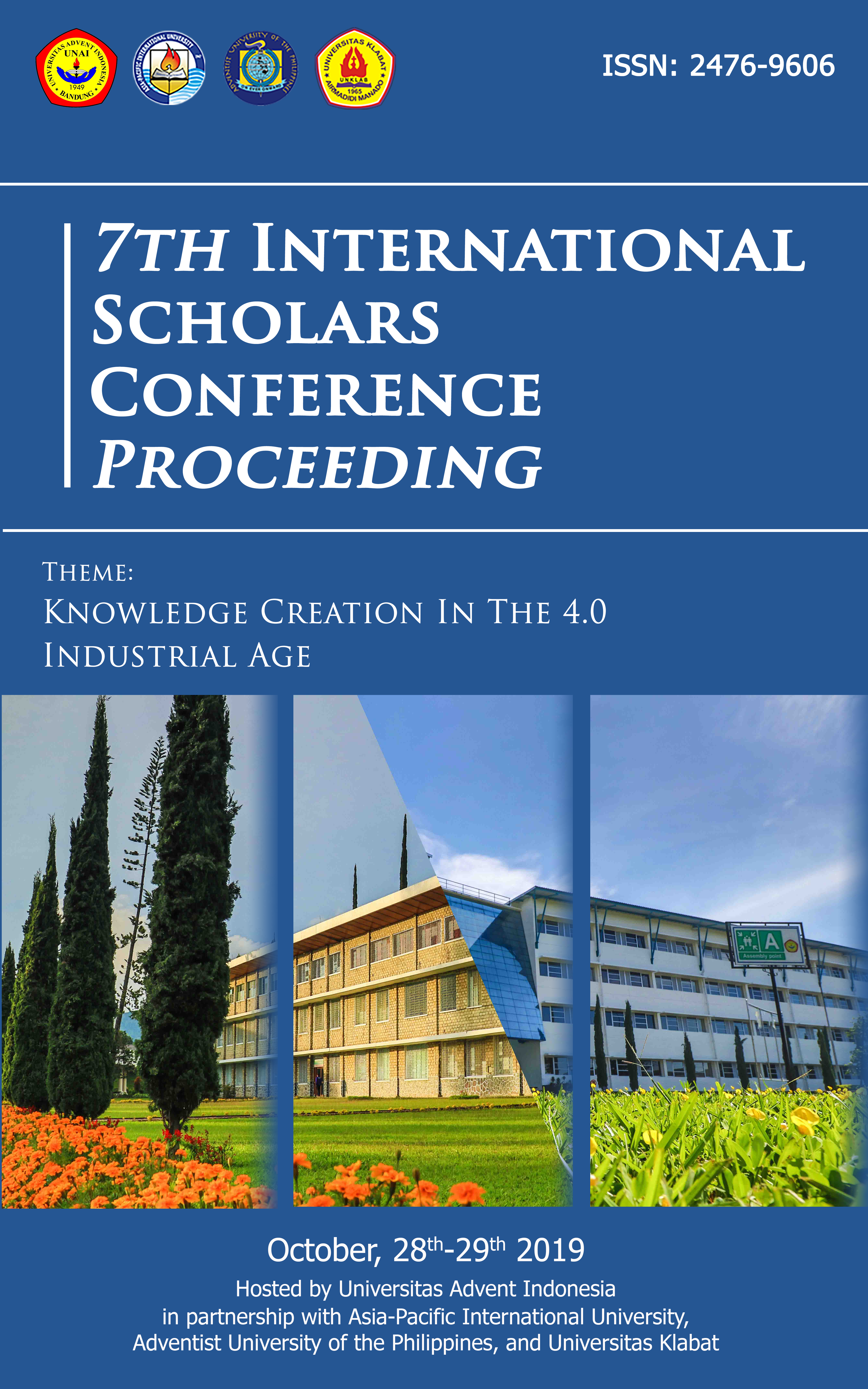 How to Cite
Pelealu, R., & Sudharmono, U. (2019). Effectiveness of Boiled Figs Leaf (Ficus Carica L) Towards Ureum and Creatinin Serum of Male Wistar Strain Rats with Acute Renal Failure Model. Abstract Proceedings International Scholars Conference, 7(1), 804-813. https://doi.org/10.35974/isc.v7i1.2085
Copyright (c) 2019 Abstract Proceedings International Scholars Conference
This work is licensed under a Creative Commons Attribution-ShareAlike 4.0 International License.
Copyright © 2019 ISC Committee.