An Analysis of Moral Values Found in a Korean TV Series 'The World of Married'
Tira Nur Fitria

ITB AAS Indonesia
Keywords:
moral value, Korean drama, TV series, The World of Marriage
Abstract
Being released in 2020, "The World of Married" drama entails certain life-lessons that are seriously heart-touching. For all the lovers of Korean drama in the form of TV series, it has some of the life-lessons or moral values taught in the story. Therefore, the objective of this study is to find out the moral values or messages in "The World of Married". This research uses qualitative research. The analysis shows that In "The World of Married", contains some moral value, they are 1) there is no perfect family life. 2) honesty is the key to family life. 3) having principles in choosing or deciding something. 4) having loyalty with a partner and not having an affair with another. 5) selecting in choosing the best friend. 6) loving the Wrong Person (Love is blind). 7) all decisions have risks. 8) an act of revenge is not the best solution. 9) avoiding violence in the family. Moral values in the movie can be understood as one base on which people make decisions whether they do is right or wrong. It also implicates what have to do or not to do in their life. 10) children become victims of the problems and divorce of parents.
Downloads
Download data is not yet available.
References
Collins, S. (2015). The Core of Care Ethics. New York: Springer.
Davies, D. (2007). Aesthetics and Literature. Great Britain: Bloomsbury Publishing.
D'Souza, A. (2005). Christian Ethics and Moral Values. New Delhi: Mittal Publications.
Endraswara, S. (2008). Metode penelitian psikologi sastra: Teori, langkah dan penerapannya. Bekasi: Media Pressindo.
Faizun, A. S. (2018). An Analysis of Moral Value In Maher Zain's Song Lyrics. An Analysis of Moral Value In Maher Zain's Song Lyrics. http://repository.umrah.ac.id/186/
Fitriani, R. (2017). An Analysis Of Moral Values In Novel "Oliver Twist" By Charles Dickens. Jurnal Ilmiah Mahasiswa FKIP Prodi Bahasa Inggris, 2(1), Article 1. http://e-journal.upp.ac.id/index.php/binggrisfkip/article/view/668
Gulla, A. (2010a). Creating Values in Life: Personal, Moral, Spiritual, Family, and Social Values. Bloomington: Author House.
Gulla, A. (2010b). Creating Values in Life: Personal, Moral, Spiritual, Family, and Social Values. Bloomington: Author House.
Kadam, A. (2017, Agustus). What are the moral values? Quora. https://www.quora.com/What-are-moral-values
King, N., & King, S. (2002). Dictionary of Literature in English. Great Britain: Taylor & Francis.
Kinneging, A. (2016, July 13). Defining Moral Values. Intercollegiate Studies Institute: Think. Live Free. https://isi.org/intercollegiate-review/defining-moral-values/
McNamara, C. (2012, January 3). What are Values, Morals, and Ethics? Business Ethics, Culture, and Performance. https://managementhelp.org/blogs/business-ethics/2012/01/02/what-are-values-morals-and-ethics/
Merriam-Webster. (2004). Merriam-Webster's Collegiate Dictionary: Eleventh Edition. Merriam-Webster.
Moor, R. A. de. (1995). Values in Western Societies. Netherlands: BRILL.
Nurgiyantoro, B. (2018). Teori Pengkajian Fiksi. Yogyakarta: UGM PRESS.
Sapontzis, S. F. (2012). Subjective Morals. USA: University Press of America.
Stevenson, A. (2010). Oxford Dictionary of English. New York: OUP Oxford.
West, R. (2015). Marriage, Sexuality, and Gender. New York: Routledge.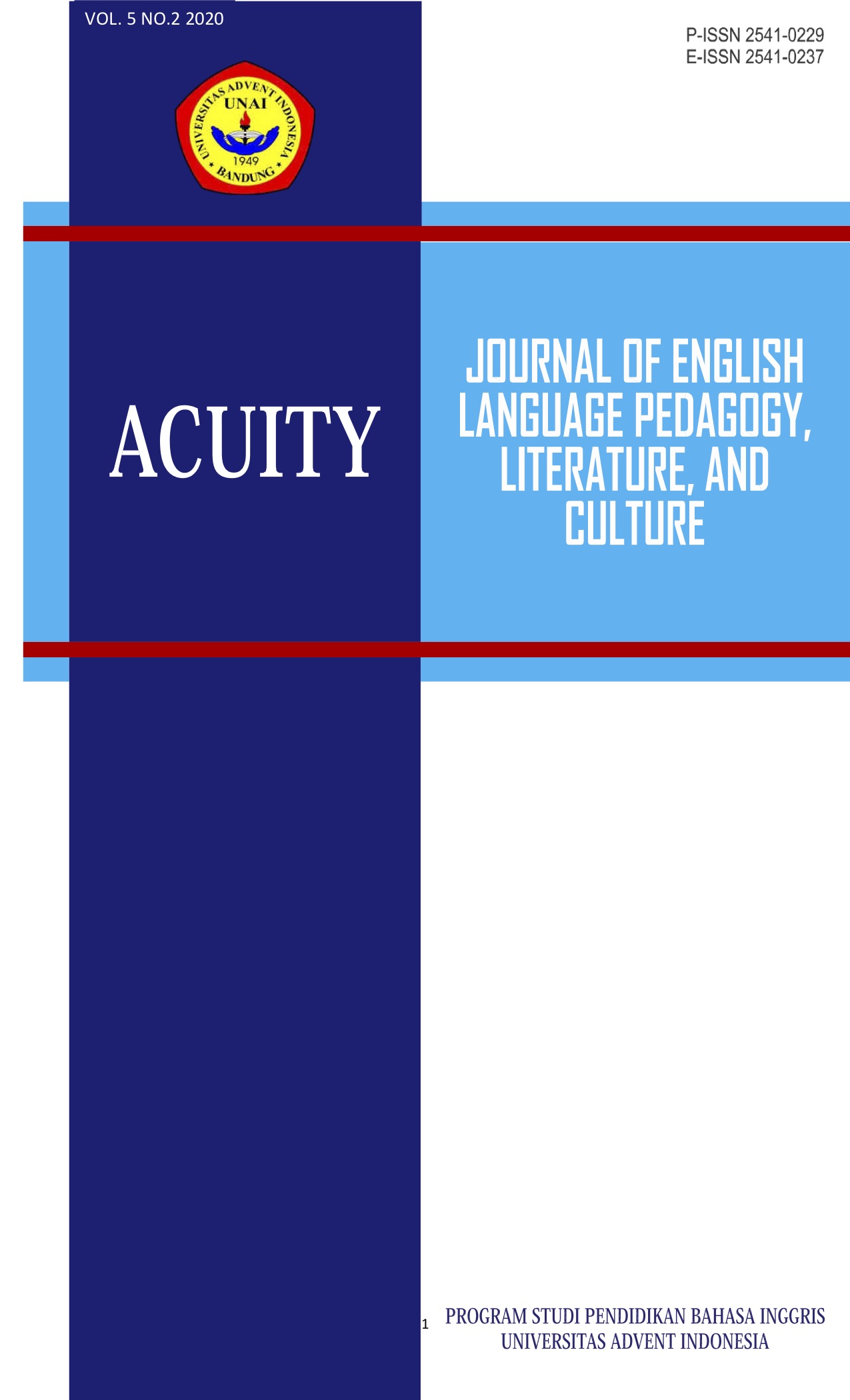 How to Cite
[1]
T. Fitria, "An Analysis of Moral Values Found in a Korean TV Series 'The World of Married'", acuity, vol. 5, no. 2, pp. 137-147, Aug. 2020.