The Effectiveness of Cherry LeavesDecoction (Muntingia Calabura L) Towards SGOT SGPT Serum on Male Wistar Rats in Critical Hepatitis Model
Julia Victoria Catherina ` R

Universitas Advent Indonesia

Untung Sudharmono

Universitas Advent Indonesia
Keywords:
Paracetamol, SGOT, SGPT, Muntingia Calabura L
Abstract
Critical Hepatitisis is caused by viruses, alchol and drugs which are characterized by theincreasing values of SGOT SGPT. The aim of this study is to determine the effectiveness ofdecoction extracts of cherry leaves (Muntingia Calabura L) towards serum SGOT SGPT onmale wistar rats in critical hepatitis model. The rats that have been used are in number of 30male rats with the weight is 180-200 grams and the age of 2-3 months devide into 3groups,which are negative groups, positive groups and treatment groups.Each groups consistof 10 rats. The negative group is given an usual food and drink. The positive group and thetreatment group are induced with 120 mg/ oral paracetamol for 7 days to increase serum levelsof SGOT SGPT. The treatment group is given a decoction therapy of 10 grams cherry leavesin 100cc of water that is given 3.6cc/oral for 7 days.While the positive group is only given aregular food and drink for 7 days.ANOVA test is conducted to analyze this studyby using SPSS24 version. It is found in the result of the study that there are significant differences in serumlevel of SGOT between the treatment group, positive group and negative group (p<0,05). Thereis a significant value difference of SGPT in the treatment group and the positive group(p<0,05). However, there is no significant difference between the level of SGPT in thetreatment group and the negative group (p=0,121).The conclusion is cherry leaves decoction(Muntingia Calabura L) has an effect towards the decrease of SGOT SGPT serum level onmale wistar rats in critical hepatitis model.
Downloads
Download data is not yet available.
References
Abyan Mursyid Muyassar, Ariosta, Dwi Retnoningrum. (2019). Pengaruh Ekstrak Daun Kumis Kucing (Orthosiphon ARISTATUS) Terhadap Fungsi Hepar Tikus Wistar Yang Diinduksi Plumbum Asetat JURNAL KEDOKTERAN DIPONEGORO Volume 8, Nomor 2, April 2019 Online : http://ejournal3.undip.ac.id/index.php/medico ISSN Online : 2540-8844
Balakrishnan KP, Narayanaswamy N, Duraisamy A. Tyrosinase inhibition and anti-oxidant properties of Muntingia calabura extract: in vitro studies. International Journal of Pharma and Bio Sciences. 2011; 2(1).
Citra Hadi Kurniati , Atika Nur Azizah. (2018). Pemanfaatan Obat Herbal Penurun Panas Pada Balita Sakit Di Desa Kaliurip Kecamatan Purwojati Kabupaten Banyumas.The 8th University Research Colloquium 2018 Universitas Muhammadiyah Purwokerto
Cheng D. S., Chen J. J., Hsinn H. L., 2006. Activation of Nitric Oxide Signaling Pathway Mediates Hypotensive Effect of Muntingia calabura L. Leaf Extract. The American Journal of Chinese Medicine. 34 (5):857–72
Corey R, Leonard M, Eghtesad B. Acetaminophen: old drug, new warnings [internet]. 2010 [cited 2012 dec 20]: 77 1 19-27. Available from: cleveland clinic journal of medicine. Dana Tri Asmara, Taufik Eko Nugroho. (2017). Pengaruh Pemberian Analgesik Kombinasi Parasetamol dan Tramadol Terhadap Kadar Serum Glutamat Oksaloasetat Transminase Tikus Wistar. Jurnal Kedokteran Diponegoro Volume 6, Nomor 2, April 2017. ISSN Online: 2540-8844 Depkes RI, 2007, Pharmaceutical Care untuk Penyakit Hati, Departemen Kesehatan RI, Jakarta.
Fiqih Kartika Murti, Siti Amarwati, Noor Wijayahadi. (2016). Pengaruh Ekstrak Daun Kersen (Muntingia Calabura) Terhadap Gambaran Mikroskopis Hepar Tikus Wistar Jantan Yang Diinduksi Etanol Dan Soft Drink. JURNAL KEDOKTERAN DIPONEGORO Volume 5, Nomor 4, Oktober 2016 Online : http://ejournals1.undip.ac.id/index.php/medico ISSN Online : 2540-8844
Husain, N., A. 2015. Studi Etnobotanidan Identifikasi TumbuhanBerkhasiat Obat Berbasis Pengetahuan Lokal. Makassar: Program Studi Agroteknologi Jurusan Budidaya Pertanian Fakultas Pertanian Universitas Hasanuddin.
Hernani. (2011). Pengembangan Biofarmaka Sebagai Obat Herbal Untuk kesehatan. Bogor : Buletin Teknologi Pascapanen Pertanian : Vol. 7 (1) 2011
Larson, Polson, Fontana, Corey. Acetaminophen-Induced Acute Liver Failure: Result of A United States Multicenter, Prospective Study. Hepatology.
Louis S. Goodman, Alfred Gilman. Autakoid; Terapi obat untuk inflamasi. In: Joel G.Hardman, Lee E.Limbird (eds.) Dasar Farmakolosi terapi. 10th ed. Jakarta: ECG;2003.p666 – 711.
Mahmood ND, Nasir NLM, Rofiee MS, Tohid SFM, Ching SM, Teh LK, et al. Muntingia calabura: A review of its traditional uses, chemical properties, and pharmacological observations. Pharmaceutical Biology. 2014; 52(12): 1598–1623.
Noer Kumala Indahsari. (2017). Histopatologi Hepar tikus putih (Rattus Novergicus) yang diinduksi dengan parasetamol dosis toksik pasca pemberian ekstrak etanol daun kelor (Moringa Oleifera). Jurnal Kimia Riset, Volume 2 No. 2, Desember 2017
Tanti Aziziah Sujono, Arifah Sri Wahyuni, Muhammad Da'i, Ika Trisharyanti Diah Kusumowati, Andi Suhendi, Rima Munawaroh, Nanik Pratiwi, Saidatul Fauziyyah, Riya Rahadini, Siti Lestari.( 2015). Pengaruh Pemberian Ekstrak Etanol Meniran ( Phyllanthusniruri L) Selama 90 Hari Terhadap Fungsi Hati Tikus. University Research Colloquium 2015. ISSN 2407-9189
Toms L, McQuay H, Derry S, Moore R. Single Dose Oral Paracetamol (Acetaminophen) for Postoperative Pain in Adults. Cochrane Libr [Internet]. 2012; Available from: http://www.thecochranelibrary
Rofiee MS, Yusof MIM, AbdulHisam EE, Bannur Z, Zakaria ZA, Somchit MN. Isolating the metabolic pathways involved in the hepatoprotective effect of Muntingia calabura against CCl4-induced liverinjuryusing LCMS Q-TOF. Journal of Ethnopharmacology. 2015; 166: 109-118.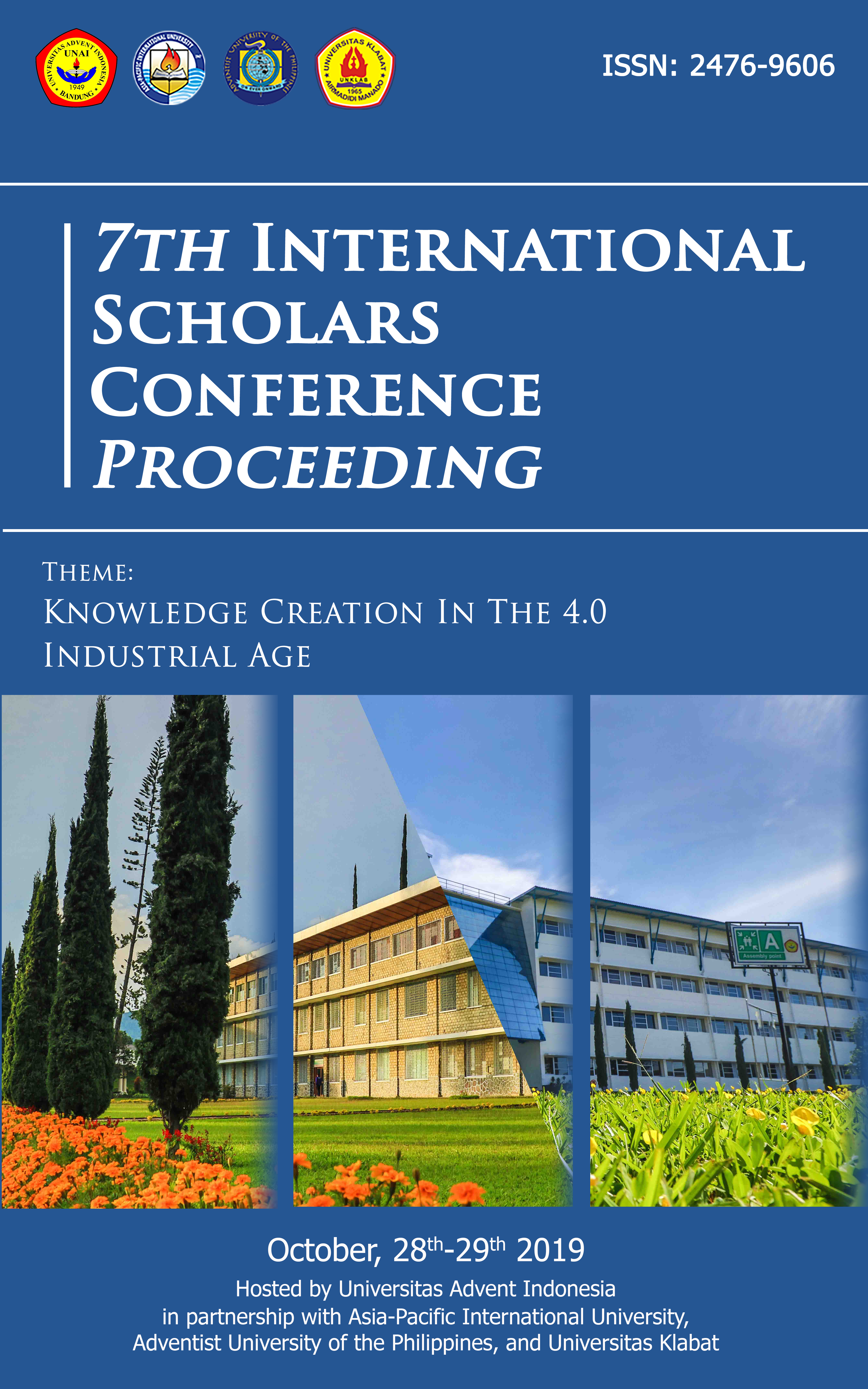 How to Cite
R, J., & Sudharmono, U. (2019). The Effectiveness of Cherry LeavesDecoction (Muntingia Calabura L) Towards SGOT SGPT Serum on Male Wistar Rats in Critical Hepatitis Model. Abstract Proceedings International Scholars Conference, 7(1), 695-704. https://doi.org/10.35974/isc.v7i1.2068
Copyright (c) 2019 Abstract Proceedings International Scholars Conference
This work is licensed under a Creative Commons Attribution-ShareAlike 4.0 International License.
Copyright © 2019 ISC Committee.