Students' Perspective of Factors Affecting Listening
Abstract
The teaching of listening in Indonesia is essential, a process that is considered to be indispensable. This paper explores several factors that affect students' listening comprehension ability; which are: Limitation of Vocabulary, Teaching Strategy, Limitation of Materials and Equipment, Student's Listening Anxiety, Exposure towards American English and culture. The main purpose of this research is to determine which factor that significantly affects students' listening comprehension ability. After going through factor analysis, it is found that the most dominant factor that affects listening comprehension ability is Limitation of Listening Materials and Equipment. This study was conducted in three schools: SMP Negeri 1 Cisarua, Bandung, SMP Negeri III Cisarua, Bandung, SMP Negeri I Parongpong, Bandung.
Key Words: Listening Comprehension Ability, Exposure towards American English and Culture
Downloads
Download data is not yet available.
References
Abbas, P. G. (2011). Journal of Language Teaching and Research, Vol. 2. No. 5. p. 977-988
Amin, M.M (2011). A correlation study between EFL listening strategy and listening comprehension skills among secondary students. Unpublished Mini-Thesis.
Cahyono, B.Y. & Widiati, U. (2009). The teaching of EFL listening in the Indonesian context: the state of art. TEFLIN Journal, 20 (2), pp. 194 211.
Golchi, M.M. (2012). International Journal of Linguistics: Listening Anxiety and Its Relationship wwith Listening Strategy Use and Listening Comprehension among Iranian IELTS Learners. V Vol. 2. No.4.
Best W.J and Khan, V (2001). Research Methods I Agricultural Extension. New York: Columbia University. Best, K.S (2012). The importance of listening: Journal of Language Teaching and Research. New Y York.
Bin, Z (2009). Improving of students' listening comprehension. Chinese Foreign Language Publication, p.118
Facella, M.A. & Rampino, K. M. & Shea, E.K. (2005). Bilingual Research Journal. Effective tteaching strategies for English langauge learners. Vol. 29. Pg. 209-221
Flowerdew, J. & Miller, L. (2005). Second language listening: theory and practice. New York, USA: Cambridge University Press.
Gilakjani, A.P. & Ahmadi, M.R. (2011). A study of factors affecting EFL learners' Englishllistening comprehension and the strategies for improvement. Journal of Language Teaching and Research. 2 (5), pp. 977-988.
Graham, S. & Santos, D. (2015). Strategies for second language listening. Palgrave. Macmillan.
Green, L. (2012). Memory in psychology. Psychology Journal 18112012.
Ivonne F.M. (2005). Teaching English as a foreign language in Indonesia: the urge to improve classroom vocabulary instruction. TEFLIN Journal. 16 (2), pp. 195-208
Joseph K. (2008). Facilitations in teaching and learning. Education of Language: USA. Longman.
Liang, A. & Chen, Y. (2012). Development of college English teaching in China under needs analysis. Higher Education of Social Science, Vol. 2, No. 3, 2012, pp. 22-26.
Lie (2007). Education policy and EFL curriculum in Indonesia: between the commitment to competence and the quest for higher test scores. TEFLIN Journal. 12 (1).
Richards (2008). Teaching listening and speaking: from theory to practice. Cambridge University press.
Rost (2002). Teaching and research in listening. London, UK: Longman.
Osada (2004). Listening comprehension research: a brief review of the past thirty years. Dialogue. 3, pp. 53-66.
Vandergriff (2011). Facilitating second language listening comprehension: acquiring successful strategies. ELT Journal 53/3.
Wolvin, A. D. (2010) (Eds). Listening and human communiation in the 21st century. Wiley-Blacwell.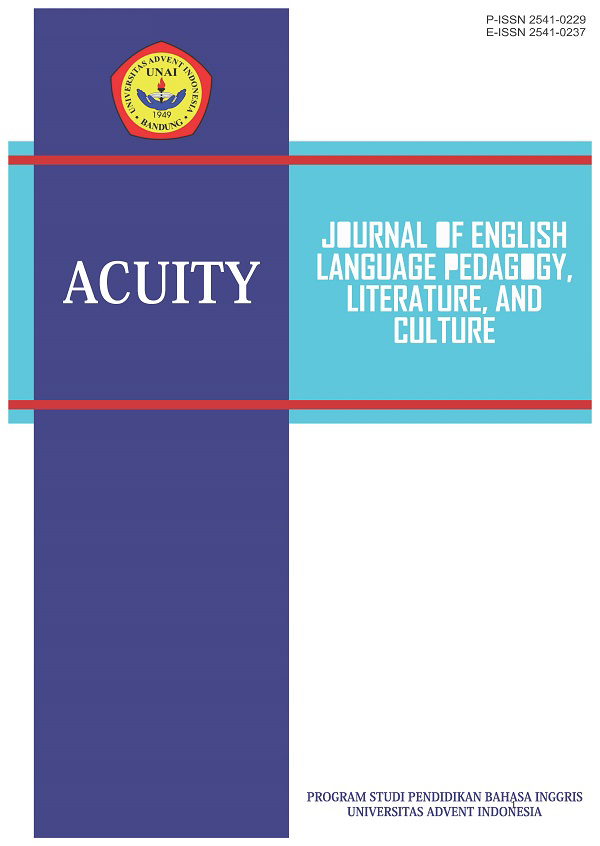 Downloads
How to Cite
[1]
K. Xuan and D. C. Simanjuntak, "Students' Perspective of Factors Affecting Listening", JELPEDLIC, vol. 2, no. 1, pp. 1-11, Jan. 2017.