Resilience and Compassion Fatigue Among Registered Nurses in Ghana
SIMON AKWASI OSEI

ADVENTIST UNIVERSITY OF THE PHILIPPINES

FISKVIK BOAHEMAA ANTWI

ADVENTIST UNIVERSITY OF THE PHILIPPINES

Williams Kwasi Peprah

Valley View University- Ghana
Keywords:
Resilience, Compassion fatigue, Registered Nurses
Abstract
In the healthcare sector, nurses provide health care services to different clients which can resultin compassion fatigue. The resilience of nurses helps to provide control of compassion fatigue.The purpose of this study is to examine if there is a relationship between resilience andcompassion fatigue and also find a significant difference in resilience and compassion fatiguein terms of sex, age, and clinical experience. Correlational research design was utilized where249 registered nurses were conveniently sampled from Ghana. The study utilized a Resiliencequestionnaire Scale developed by Wagnild and Young (2010) and Professional quality of life(ProQOL) scale developed by Stamm (2010) was adapted and modified for compassion fatigue.The statistical treatments used were and Pearson Correlation, T-Test and ANOVA to addressthe research questions. The study showed that there was a high positive significant relationshipbetween resilience and compassion fatigue. There was a significant difference in age and sexon compassion fatigue however, no significant on clinical experience. Sex and clinicalexperience showed a significant difference in resilience but no significant difference when agewas considered. The results of the study suggest that registered nurses in Ghana experiencehigh compassion fatigue. In preventing the compassion fatigue of the nurse's measures shouldbe instituted to increase the resilience level of the nurses. Healthcare administrators should putin measures to reduce the compassion fatigue of the nurses. Further researchers should exploreother variables in relation to the resilience to help reduce the compassion fatigue of nurses
Downloads
Download data is not yet available.
References
Armmer, F. (2017). An inductive discussion of the interrelationships between nursing shortage, horizontal violence, generational diversity, and healthy work environments. Administrative Sciences, 7(4), 34.
Bahadır Yılmaz, E. (2017). Resilience as a strategy for struggling against challenges related to the nursing profession. Chinese Nursing Research, 4(1), 9-13. doi:10.25164/cnr201701003
Burnett, H. J. (2015). Compassion Fatigue and Resilience Connection: A Survey of Resilience, Compassion Fatigue, Burnout, and Compassion Satisfaction among Trauma Responders. International Journal of Emergency Mental Health and Human Resilience, 17(1). doi:10.4172/1522-4821.1000165
Cieslak, R., Shoji, K., Douglas, A., Melville, E., Luszczynska, A., & Benight, C. C. (2014). A meta-analysis of the relationship between job burnout and secondary traumatic stress among workers with indirect exposure to trauma. Psychological Services, 11(1), 75-86. doi:10.1037/a0033798
Cohen, J. (1988). Statistical power analysis for the behavioral sciences. (2nd ed.). Hillsdale, NJ: Erlbaum
David, D. (2012). Resilience as a protective factor against compassion fatigue in trauma therapist (unpublished doctoral dissertation). Walden University, Minneapolis, MN.
Dewa, C., Jacobs, P., Thanh, N. and Loong, D. (2014), "An estimate of the cost of burnout on early retirement and reduction in clinical hours of practicing physicians in Canada". BMC Health Services Research, 14(1), 233-251.
Everly, G.S. (2012). Fostering human resilience: A primer on resilient leadership, psychological first aid, psychological body armor and critical incident stress management (2nd ed.). Ellicott City, MD: Chevron Publishing.
Figley, C.R. (1995). Compassion fatigue as secondary traumatic stress disorder; an overview. In C.R. Figley (Ed.), Compassion fatigue: Coping with secondary traumatic stress disorder in those who treat the traumatized, 1-20. New York: Routledge.
Harris, C., & Griffin, M. T. (2015). Nursing on empty: compassion fatigue signs, symptoms, and system interventions. Journal of Christian Nursing, 32(2), 80-87. doi:10.1097/cnj.0000000000000155
Hollnagel, E. (2017). Resilience–the challenge of the unstable. In Resilience engineering ( 917). CRC Press.
Hsieh, H. F., Hung, Y. T., Wang, H. H., Ma, S. C., & Chang, S. C. (2016). Factors of resilience in emergency department nurses who have experienced workplace violence in Taiwan. Journal of nursing scholarship, 48(1), 23-30.
Hudgins, T. A. (2016). Resilience, job satisfaction and anticipated turnover in nurse leaders. Journal of nursing management, 24(1), E62-E69.
Hunsaker, S., Chen, H. C., Maughan, D., & Heaston, S. (2015). Factors that influence the development of compassion fatigue, burnout, and compassion satisfaction in emergency department nurses. Journal of Nursing Scholarship, 47(2), 186-194.
Hunsaker, S., Chen, H., Maughan, D., & Heaston, S. (2015). Factors That Influence the Development of Compassion Fatigue, Burnout, and Compassion Satisfaction in Emergency Department Nurses. Journal of Nursing Scholarship, 47(2), 186-194. doi:10.1111/jnu.12122
Jackson, D., Firtko, A., & Edenborough, M. (2007). Personal resilience as a strategy for surviving and thriving in the face of workplace adversity: a literature review. Journal of Advanced Nursing, 60(1), 1-9. doi:10.1111/j.1365-2648.2007.04412.x
Jarrad, R., Hammad, S., Shawashi, T., & Mahmoud, N. (2018). Compassion fatigue and substance use among nurses. Annals of General Psychiatry, 17(1). doi:10.1186/s12991018-0183-5
Joinson, C. (1992). Coping with compassion fatigue. Nursing, 22(4), 116-121. doi:10.1097/00152193-199204000-00035
Kelly, L., Runge, J., & Spencer, C. (2015). Predictors of Compassion Fatigue and Compassion Satisfaction in Acute Care Nurses. Journal of Nursing Scholarship, 47(6), 522-528. doi:10.1111/jnu.12162
Khan, A. A., Malik, N. J., & Khan, M. A. (2015). Compassion fatigue amongst health care providers. Pak Armed Forces Med J, 65(2), 286-89.
Ledoux, K. (2015). Understanding compassion fatigue: understanding compassion. Journal of advanced nursing, 71(9), 2041-2050.
Luthar, S.S., Cicchetti, D., & Becker, B. (2000). The construct of resilience: A critical evaluation and guidelines for future work. Child Development, 71(3), 543-562.
Mancini, A.D., & Bonanno, G.A. (2009). Predictors and parameters of resilience to loss: Toward an individual differences model. Journal of Personality, 77(6), 1805-1831.
McGibbon, E., Peter, E., & Gallop, R. (2010). An Institutional Ethnography of Nurses' Stress. Qualitative Health Research, 20(10), 1353-1378. doi:10.1177/1049732310375435
Mealer, M., Jones, J., & Meek, P. (2017). Factors Affecting Resilience and Development of Posttraumatic Stress Disorder in Critical Care Nurses. American Journal of Critical Care, 26(3), 184-192. doi:10.4037/ajcc2017798
Mealer, M., Jones, J., & Moss, M. (2012). A qualitative study of resilience and posttraumatic stress disorder in United States ICU nurses. Intensive Care Medicine, 38(9), 1445-1451. doi:10.1007/s00134-012-2600-6
Nolte, A. G., Downing, C., Temane, A., & Hastings-Tolsma, M. (2017). Compassion fatigue in nurses: A metasynthesis. Journal of Clinical Nursing, 26(23-24), 4364-4378. doi:10.1111/jocn.13766
Rushton, C. H., Batcheller, J., Schroeder, K., & Donohue, P. (2015). Burnout and Resilience Among Nurses Practicing in High-Intensity Settings. American Journal of Critical Care, 24(5), 412-420. doi:10.4037/ajcc2015291
Sacco, T. L., Ciurzynski, S. M., Harvey, M. E., & Ingersoll, G. L. (2015). Compassion Satisfaction and Compassion Fatigue Among Critical Care Nurses. Critical Care Nurse, 35(4), 32-42. doi:10.4037/ccn2015392
Sheppard, K. (2015). Compassion fatigue among registered nurses: Connecting theory and research. Applied Nursing Research, 28(1), 57-59.
Sorenson, C., Bolick, B., Wright, K., & Hamilton, R. (2016). Understanding Compassion Fatigue in Healthcare Providers: A Review of Current Literature. Journal of Nursing Scholarship, 48(5), 456-465. doi:10.1111/jnu.12229
Southwick, S.M., & Charney, D.S. (2012). Resilience: The science of mastering life's greatest challenges. New York: Cambridge University Press.
Stamm, B.H. (2010). The concise ProQOL manual, 2nd Ed. Pocatello, ID: ProQOL.org.
Sull, A., Harland, N., & Moore, A. (2015). Resilience of health-care workers in the UK; a cross-sectional survey. Journal of Occupational Medicine and Toxicology, 10(1). doi:10.1186/s12995-015-0061-x
Thomas, L. J., & Revell, S. H. (2016). Resilience in nursing students: An integrative review. Nurse education today, 36, 457-462.
Wagnild, G., & Young, H. (1993). Development and psychometric evaluation of the resilience scale. Journal of Nursing Measurement, 1(2), 165-178.
Wagnild, G.M. (2010). The resilience scale user's guide. Worden, Montana: Resilience Center.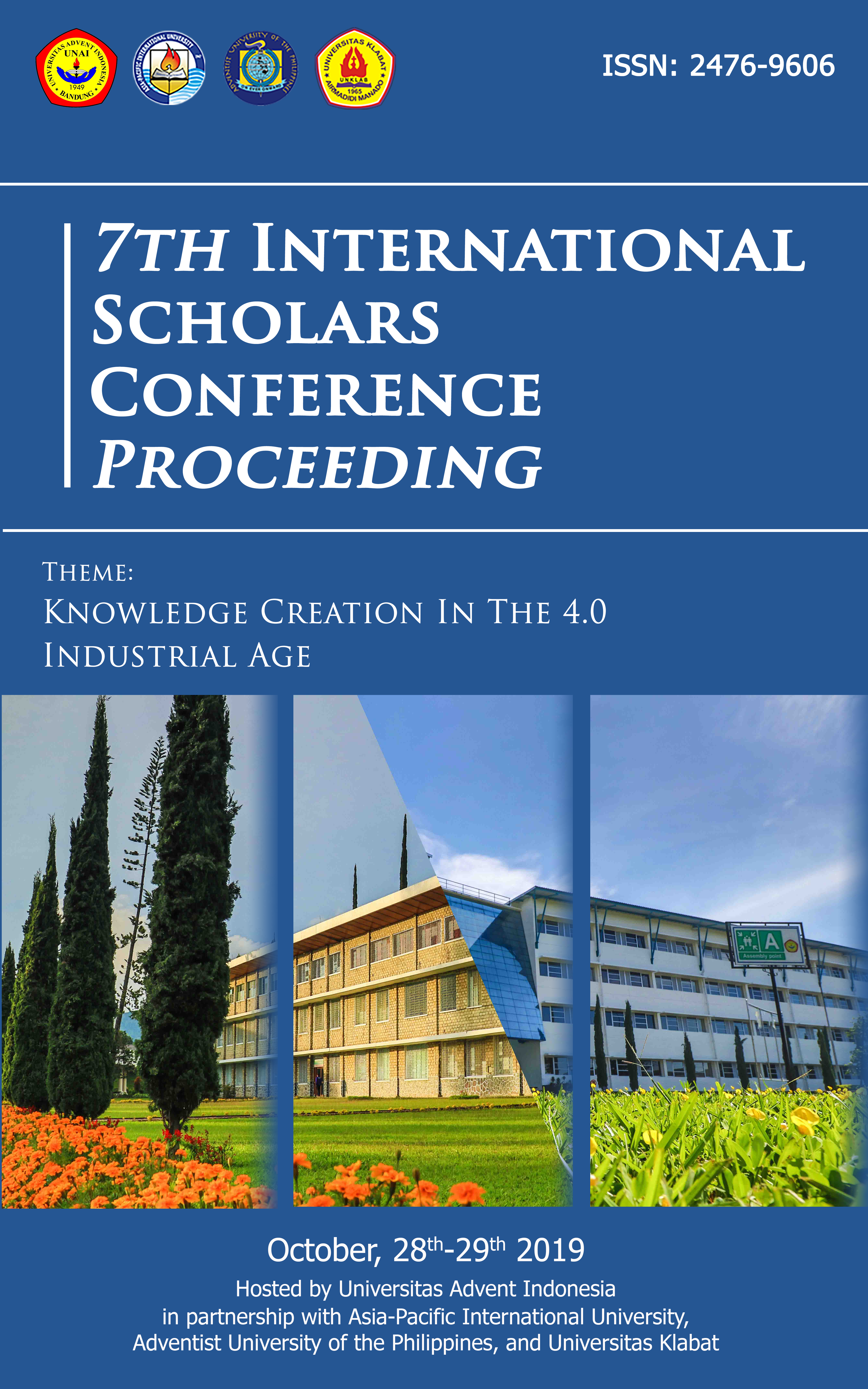 How to Cite
OSEI, S., ANTWI, F., & Peprah, W. (2019). Resilience and Compassion Fatigue Among Registered Nurses in Ghana. Abstract Proceedings International Scholars Conference, 7(1), 179-192. https://doi.org/10.35974/isc.v7i1.943
Copyright (c) 2019 Abstract Proceedings International Scholars Conference
This work is licensed under a Creative Commons Attribution-ShareAlike 4.0 International License.
Copyright © 2019 ISC Committee.