Psychosocial well-being and Job Satisfaction among Nurses in the Philippines
BLESSLOVE PINAMANG NIMAKO

SAINT LOUIS UNIVERSITY

Simon Akwasi Osei

Adventist University of the Philippines

Fiskvik Boahemaa Antwi

Valley View University

Williams Kwasi Peprah

Adventist University of The Philippines
Keywords:
Psychosocial wellbeing, Job satisfaction, Registered nurses
Abstract
Nursing is a profession in the health care sector that is pivotal and solely focused on servinghumanity. With having to carry that burden, issues regarding mental health among nurseshave been increasing. Stress is often encountered by nurses in the workplace, whicheventually leads to burnout. Initial evidence suggests that a positive or an increase inpsychosocial well-being increases job satisfaction. The purpose of the study was to examinethe relationship between psychosocial wellbeing and job satisfaction. and examine thesignificant difference in psychological wellbeing and job satisfaction when considering age.Correlational design utilized was used where 100 registered nurses were a purposive samplefrom selected hospitals in the philippines. Psychosocial well-being was measured using CarolRyff's Psychosocial Well-Being Questionnaire, and job satisfaction was measured using theJob Satisfaction Survey (JSS) by Paul Specter. The statistical treatment used was Pearsoncorrelation, T-Test to address the research questions. The results of the study showed thatthere was a low positive significant relationship between psychosocial wellbeing and jobsatisfaction. There was no significant difference in psychosocial wellbeing and jobsatisfaction when age was considered. The results of the study showed that registered nurseshave high psychosocial wellbeing and which makes them have high job satisfaction at theirwork environment. The study recommends that more studies should be done to identifyfactors influencing psychosocial well-being, job satisfaction, Resilience-oriented training forthe nurses are suggested to enhance resilience and protect the nurses from extensive stressand burnout as well as to benefit the organization with lower turnover rates and higher nursepatient outcome.
Downloads
Download data is not yet available.
References
Bianchi, E. R. (2004). Stress and Coping Among Cardiovascular Nurses: A Survey in Brazil. Issues in Mental Health Nursing, 25(7), 737-745. doi:10.1080/01612840490486818
Burke, R. J., Moodie, S., Dolan, S. L., & Fiksenbaum, L. (2012). Job Demands, Social Support, Work Satisfaction and Psychological Well-Being Among Nurses in Spain. SSRN Electronic Journal. doi:10.2139/ssrn.2117051
Cohen, J. (1988). Statistical power analysis for the behavioral sciences. (2nd ed.). Hillsdale, NJ: Erlbaum
Gurková, E., Čáp, J., Žiaková, K., & Ďurišková, M. (2011). Job satisfaction and emotional subjective well-being among Slovak nurses. International Nursing Review, 59(1), 94100. doi:10.1111/j.1466-7657.2011.00922.x
Jose, D. (2013). A descriptive study on stress and coping of nurses working in selected hospitals of Udupi and Mangalore districts Karnataka, India. IOSR Journal of Nursing and Health Science, 3(1), 10-18. doi:10.9790/1959-03111018
Jose, M. M. (2010). Lived experiences of internationally educated nurses in hospitals in the United States of America. International Nursing Review, 58(1), 123-129. doi:10.1111/j.1466-7657.2010.00838.x
Kadkhodae, F., & Shuresh, L. (2013). Assessment of Social Health among High School Female Students in Shiraz and its related factors. Journal of Social Research, 183207.
Khamisa, N., Oldenburg, B., Peltzer, K., & Ilic, D. (2015). Work Related Stress, Burnout, Job Satisfaction and General Health of Nurses. International Journal of Environmental Research and Public Health, 12(1), 652-666. doi:10.3390/ijerph120100652
Khoury, B., Sharma, M., Rush, S. E., & Fournier, C. (2015). Mindfulness-based stress reduction for healthy individuals: A meta-analysis. Journal of Psychosomatic Research, 78(6), 519-528. doi:10.1016/j.jpsychores.2015.03.009
Khunou, S. H., & Davhana-Maselesele, M. (2016). Level of job satisfaction amongst nurses in the North-West Province, South Africa: Post occupational specific dispensation. Curationis, 39(1). doi:10.4102/curationis.v39i1.1438
Levtak, S. (2012, June 25). Cleveland. Retrieved from Study looks at high rate of depression among nurses: https://www.cleveland.com/healthfit/index.ssf/2012/06/study_looks_at_high_rate_of_ de.html.
Lu, H., Barriball, K. L., Zhang, X., & While, A. E. (2012). Job satisfaction among hospital nurses revisited: A systematic review. International Journal of Nursing Studies, 49(8), 1017-1038. doi:10.1016/j.ijnurstu.2011.11.009
Mazloomy Mahmoodabad, S., & et al. (2016). Extrinsinc or Instrinsinc Orientation may have an impact on Mental Health. Research Journal of Medical Sciences.10(2), 232-236
Milutinović, D., Golubović, B., Brkić, N., & Prokeš, B. (2012). Professional Stress and Health among Critical Care Nurses in Serbia. Archives of Industrial Hygiene and Toxicology, 63(2), 171-180. doi:10.2478/10004-1254-63-2012-2140
Moumtzoglou, A. (2010). The Greek Nurses' Job Satisfaction Scale: Development and Psychometric Assessment. Journal of Nursing Measurement, 18(1), 60-69. doi:10.1891/1061-3749.18.1.60
Moustaka, E., & Constantinidis, T. (2010). Sources and Effects of work related stress in Nursing. Health Sciences Journal, 4(1), 210-216.
Mozaffari, N., Peyrovi, H., & Nayeri, N. D. (2015). The social well-being of nurses shows a thirst for a holistic support: A qualitative study. International Journal of Qualitative Studies on Health and Well-being, 10(1), 27749. doi:10.3402/qhw.v10.27749
Prosen, M., & Piskar, F. (2013). Job satisfaction of Slovenian hospital nursing workforce. Journal of Nursing Management, 23(2), 242-251. doi:10.1111/jonm.12121
Ryff, C., & Keyes, C. (1995). The structure of psychologicl well-being revisited. Journal of Personality and Social Psychology, 69, 719-727
Samiei, V., Abdul Manaf, R., Ismail, A., & Kandasamy, C. (2016). Job performance of clinical nurse managers and its relationship with their job satisfaction and job stress: A cross sectional study. International Journal of Medical Research & Health Sciences. 5(5), 381-390
Selligman, M. (2012). A visionary New Understanding of Happiness and Well-being. In M. Selligman, Flourish (pp. 1-368). New York: New York Best. Co Publishing.
Shoorovazi, M., Dalir, Z., Atefi, N., Tohidi.S, & Forouhari, S. (2016). The relationship between social well being and job satisfaction in nurses. Scholars Research Library. 8(19), 410-416.
Srinisvasan, K., & Samuel, U. (Mar 2014). Psychological Problem Factors Faced by Staff Nurse Working in hospitals. IOSR Journal of Humanities and Social Science Volume 19, Issue 3, Ver. II, 01-04.
Timilsina Bhandari, K., Xiao, L., & Belan, I. (2014). Job satisfaction of overseas-qualified nurses working in Australian hospitals. International Nursing Review, 62(1), 64-74. doi:10.1111/inr.12146
WHO. (2018). World Health Organization. Retrieved from Constitution of WHO: principles: http://www.who.int/about/mission/en/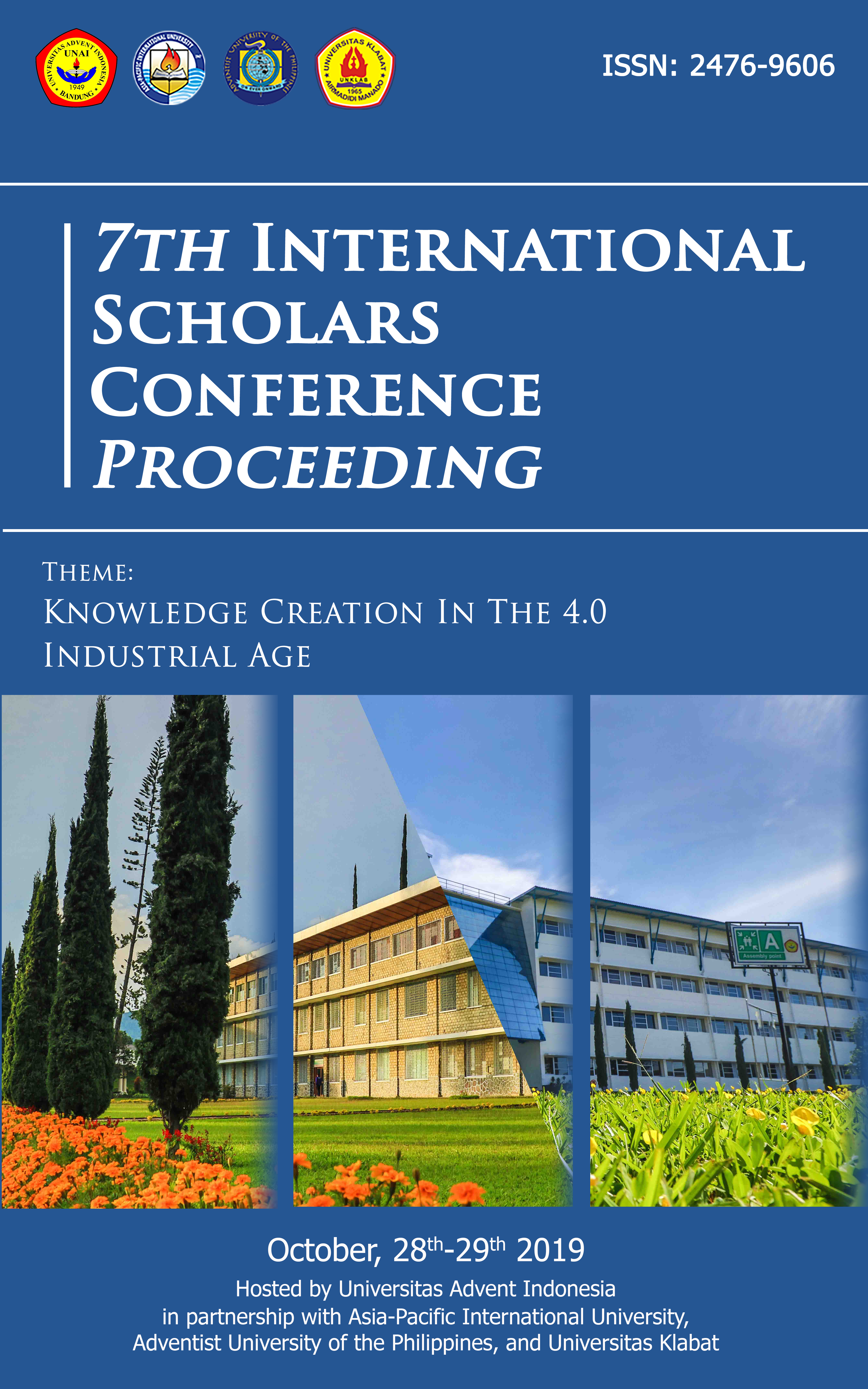 How to Cite
NIMAKO, B., Osei, S., Antwi, F., & Peprah, W. (2019). Psychosocial well-being and Job Satisfaction among Nurses in the Philippines. Abstract Proceedings International Scholars Conference, 7(1), 244-254. https://doi.org/10.35974/isc.v7i1.954
Copyright (c) 2019 Abstract Proceedings International Scholars Conference
This work is licensed under a Creative Commons Attribution-ShareAlike 4.0 International License.
Copyright © 2019 ISC Committee.