Nurses' Perception of Spiritual Care Practices Among Hospitalized Patients: A Basis for a Program
FISKVIK BOAHEMAA ANTWI

ADVENTIST UNIVERSITY OF THE PHILIPPINES

Vivian Ofosu Asiama

ADVENTIST UNIVERSITY OF THE PHILIPPINES

Simon Akwasi Osei

Adventist University of The Philippines

Williams Kwasi Peprah

Valley View University- Ghana
Keywords:
Spiritual Care, Spiritual Assessment, Spiritual Communication, Spiritual Support, Nurses
Abstract
Throughout hospitalization, patients place emphasis on health professionals to meet theirspiritual and emotional needs. Since 1998, the National Inpatient Priority Index rankedemotional and spiritual needs as the patient's second priority. With evidence that shows theimportance of spirituality in patient's health, nurses have a pivotal role in providing spiritualcare. The purpose of this study was to examine the perception of nurses of spiritual care practiceamong hospitalized patients. The study used a descriptive research design to examine nurses'perception of spiritual care practices among hospitalized patients. The study was conductedamong registered nurses (RN) working in Ghana. Convenient sampling technique was used toselect 180 registered nurses. The study adopted and modified Nurse Spiritual Care TherapeuticScale developed by Mamier and Taylor (2015). The results showed that the respondent'spractices in terms of spiritual assessment were scaled as sometimes (M=3.12, SD=0.85). Therespondent's practices in terms of spiritual support were scaled as sometimes (M=2.62,SD=0.88). The respondent's practices in terms of spiritual communication were scaled as often(M=3.55, SD=0.69). In examining the nurses' overall spiritual care practice, it was noted thatthe respondent's practices in terms of spiritual care were scaled at sometimes (M=3.12,SD=0.707). It can be concluded that spiritual care in terms of spiritual assessment and spiritualsupport was inadequate. Nurses provided adequate spiritual communication with the patientsby actively listening to the patient's illness story. A program under the theme "Caring beyondthe Physical" was developed to address the problem of spiritual care among nurses. It isrecommended for administrators and clinical nursing educators to utilize this research andprogram in providing ongoing training for nurses in providing spiritual care. Secondly, furtherstudies are recommended to be done to examine whether the personal profile has a significantdifference in the use of spiritual care.
Downloads
Download data is not yet available.
References
Asare M, Danquah SA (2017) The African Belief System and the Patient's Choice of Treatment from Existing Health Models: The Case of Ghana. Acta Psychopathology, 3(4), 49.
Caldeira, S., Carvalho, E. C., & Vieira, M. (2013). Spiritual Distress-Proposing a New Definition and Defining Characteristics. International Journal of Nursing Knowledge, 24(2), 77-84. doi:10.1111/j.2047-3095.2013.01234.x
Chan, M. F. (2009). Factors affecting nursing staff in practising spiritual care. Journal of Clinical Nursing. doi:10.1111/j.1365-2702.2008.02690.x
Ketchy, I. A., Owusu-Daaku, F., & Danquah, S. (2014). Patterns and determinants of the use of complementary and alternative medicine: a cross-sectional study of hypertensive patients in Ghana. BMC Complementary & Alternative Medicine, 14(1), 44-55. doi:10.1186/1472-6882-14-44
Dameron, C. M. (2005). Spiritual Assessment Made Easy... With Acronyms! Journal of Christian Nursing, 22(1), 14-16. doi:10.1097/01.cnj.0000262323.59843.2e
Deal, B. (2010). A Pilot Study of Nurses' Experience of Giving Spiritual Care. The Qualitative Report, 15(4), 852-863. Retrieved from https://nsuworks.nova.edu/tqr/vol15/iss4/5
Fisher, J. W. (2016). Assessing adolescent spiritual health and well-being (commentary related to Social Science & Medicine – Population Health, ref: SSMPH-D-15-00089). SSM - Population Health, 2, 304-305. doi:10.1016/j.ssmph.2016.04.002
Gallison, B. S., Xu, Y., Jurgens, C. Y., & Boyle, S. M. (2012). Acute Care Nurses' Spiritual Care Practices. Journal of Holistic Nursing, 31(2), 95-103. doi:10.1177/0898010112464121
Gouveia, M. J., Pais-Ribeiro, J. L., & Marques, M. (2012). Study of the Factorial Invariance of the Spiritual Well-Being Questionnaire (SWBQ) in Physical Activity Practitioners' of Oriental Inspiration. Psychology, Community & Health, 1(2), 140-150. doi:10.5964/pch.v1i2.25
Hodge, D. R., Salas-Wright, C. P., & Wolosin, R. J. (2014). Addressing Spiritual Needs and Overall Satisfaction With Service Provision Among Older Hospitalized Inpatients. Journal of Applied Gerontology, 35(4), 374-400. doi:10.1177/0733464813515090
Kaddourah, B., Abu-Shaheen, A., & Al-Tannir, M. (2018). Nurses' Perceptions of Spirituality and Spiritual Care at Five Tertiary Care Hospitals in Riyadh, Saudi Arabia: A CrossSectional Study. Oman Medical Journal, 33(2), 154-158. doi:10.5001/omj.2018.28
Kretchy, I. A., Owusu-Daaku, F., & Danquah, S. (2014). Spiritual and religious beliefs: Do they matter in the Medication Adherence Behaviour of Hypertensive Patients. BioPsychoSocial Med 7, 15 (2013) doi:10.1186/1751-0759-7-15
Lepherd, L. (2014). Spirituality: Everyone has it, but what is it? International Journal of Nursing Practice, 21(5), 566-574. doi:10.1111/ijn.12285
Mamier, I., & Taylor, E. J. (2015). Nurse Spiritual Care Therapeutics Scale. PsycTESTS Dataset. doi:10.1037/t41123-000
McSherry, W., & Jamieson, S. (2011). An online survey of nurses' perceptions of spirituality and spiritual care. Journal of Clinical Nursing, 20(11-12), 1757-1767. doi:10.1111/j.1365-2702.2010.03547.x
Puchalski, C. M. (2001). The role of spirituality in health care. Proceedings (Baylor University Medical Center), 14, 352-357.
Smyth, T., & Allen, S. (2011). Nurses' experiences assessing the spirituality of terminally ill patients in acute clinical practices. International Journal of Palliative Nursing, 17, 337-343.
Taylor, E. J. (2008). What Is Spiritual Care in Nursing? Holistic Nursing Practice, 22(3), 154159. doi:10.1097/01.hnp.0000318024.60775.46
Tirgari, B., Forouzi, M., Safarizadeh, M., & Jahani, Y. (2017). Spiritual needs and quality of life of patients with cancer. Indian Journal of Palliative Care, 23(4), 437. doi:10.4103/ijpc.ijpc_53_17
Van Leeuwen, R., & Cusveller, B. (2004). Nursing competencies for spiritual care. Journal of Advanced Nursing, 48(3), 234-246. doi:10.1111/j.1365-2648.2004.03192.x
Wittenberg, E., Ragan, S. L., & Ferrell, B. (2016). Exploring Nurse Communication About Spirituality. American Journal of Hospice and Palliative Medicine®, 34(6), 566-571. doi:10.1177/1049909116641630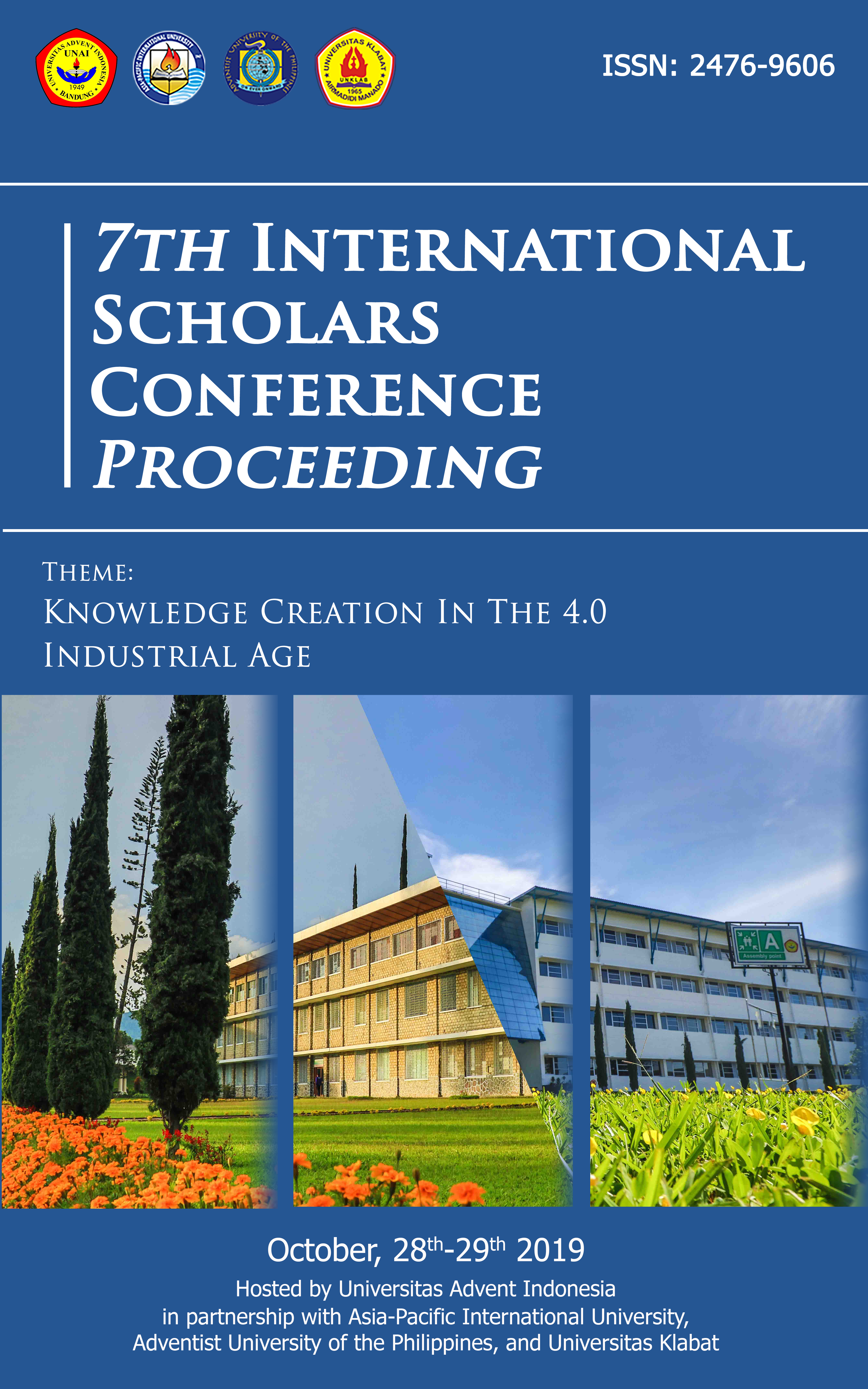 How to Cite
ANTWI, F., Asiama, V., Osei, S., & Peprah, W. (2019). Nurses' Perception of Spiritual Care Practices Among Hospitalized Patients: A Basis for a Program. Abstract Proceedings International Scholars Conference, 7(1), 207-217. https://doi.org/10.35974/isc.v7i1.945
Copyright (c) 2019 Abstract Proceedings International Scholars Conference
This work is licensed under a Creative Commons Attribution-ShareAlike 4.0 International License.
Copyright © 2019 ISC Committee.