The Integration of Intercultural Competence in Innovative Pedagogical Methodology in Nursing Education.
FISKVIK BOAHEMAA ANTWI

ADVENTIST UNIVERSITY OF THE PHILIPPINES

Simon Akwasi Osei

Adventist University of The Philippines

Williams Kwasi Peprah

Valley View University- Ghana

Milton Boaheng Antwi

The Arctic University of Norway

Emmanuel Antwi

University of the Southern Caribbean
Keywords:
Intercultural Competence, Pedagogical Methodology, Nurse Educator, Nursing Education
Abstract
The global population is continuously emigrating and progressing due to the increased abilityto travel. This has resulted in upsurge escalation of cultural diversity in every country.Immigration expansion, increasing globalization and the growth of minorities have resulted incultural diversity of students in the nursing education. This, therefore, calls for the need toenhance the teaching strategies of nursing educators to meet the demands of diverse students.This correlational study aims to measure the relationship between the integration ofintercultural competence on the use of innovative pedagogical methodology. Also, it aims tomeasure the significant difference of years of teaching experience on the use of innovativepedagogical methodology. Thirty (30) nurse educators were conveniently sampled from threeuniversities in Trinidad and Tobago. The study adopted and modified Cultural DiversityQuestionnaire for Nurse Educators (CDQN) to assess the intercultural competence of nurseeducators and a self-constructed questionnaire was used for the pedagogical methodology ofnurse educators. The statistical treatment used was Pearson Correlation and ANOVA. Therelationship between intercultural competence and the use of innovative pedagogicalmethodology yielded a moderate significant positive relationship (r=0.387, p=0.008) at a95% confidence interval. In examining the differences between years of teaching experiencethe use of innovative pedagogical methodology, the study showed a non-significantdifference (p=1.35) on equal variance assumed, Therefore, this study concludes that in orderto enhance the quality of nursing education, nurse educators should pose interculturalcompetence in order to provide innovative pedagogical methods that would enhance teachingquality and facilitate cultural diversity in the classrooms. It is therefore critical for continuousprofessional development for nursing educators to include the development of interculturalcompetence and the use of innovative pedagogical methodology. Further research shouldinvestigate using qualitative research design on the challenges that nurse educators face withthe increase of cultural diversity in nursing education.
Downloads
Download data is not yet available.
References
Baghdadi, N. A., & Ismaile, S. (2018). Cultural competency of nursing faculty teaching in baccalaureate nursing programs in the United States. Australasian Medical Journal (Online), 11(2), 126-134.
Bastable, S. B. (2017). Nurse as educator: Principles of teaching and learning for nursing practice. Jones & Bartlett Learning.
Bednarz, H., Schim, S., & Doorenbos, A. (2010). Cultural diversity in nursing education: Perils, pitfalls, and pearls. Journal of Nursing Education, 49(5), 253-260.
Berlin, A., Nilsson, G., & Törnkvist, L. (2010). Research Article: Cultural competence among Swedish child health nurses after specific training: A randomized trial. Nursing & Health Sciences, 12(3), 381-391. doi:10.1111/j.1442-2018.2010.00542.x
Bidabadi, N. S. (2016). Effective teaching methods in higher education: Requirements and barriers. Journal of Advances in Medical Education & Professionalism, 4(4), 170178.
Breytenbach, C., Ten Ham-Baloyi, W., & Jordan, P. J. (2017). An Integrative Literature Review of Evidence-Based Teaching Strategies for Nurse Educators. Nursing Education Perspectives, 38(4), 193-197. doi:10.1097/01.nep.0000000000000181
Campinha-Bacote, J. (2003). Many faces: Addressing diversity in health care. Online Journal of Issues in Nursing, 8(1), 3.
Choi, S., & Kim, K. (2014). The Effects of Cultural Competence on Nurses' Burnout. doi:10.14257/astl.2014.47.68
Cohen, J. (1988).Statistical power analysis for the behavioral sciences. (2nd ed.). Hillsdale, NJ: Erlbaum.
De Beuckelaer, A., Lievens, F., & Bücker, J. (2012). The Role of Faculty Members' CrossCultural Competencies in Their Perceived Teaching Quality: Evidence from Culturally-Diverse Classes in Four European Countries. The Journal of Higher Education, 83(2), 217-248. doi:10.1353/jhe.2012.0007
Duerksen, J. L. (2013). Retention and success of culturally diverse nursing students. The Oklahoma Nurse, 58(3), 4-5.
Fleming, S., Mckee, G., & Huntley-Moore, S. (2011). Undergraduate nursing students' learning styles: A longitudinal study. Nurse Education Today, 31(5), 444-449. doi:10.1016/j.nedt.2010.08.005
Ganyaupfu, E. M. (2013). Teaching Methods and Students' Academic Performance. International Journal of Humanities and Social Science Invention, 2(9), 29-35.
Hamurcu, H., & Canbulat, T. (2019). Preservice Teachers' Perceived Self-Efficacy in Selection of Teaching Methods and Techniques. Pedagogical Research, 4(3). doi:10.29333/pr/5837
Hart, P. L., & Moreno, N. (2016). Nurses' Perceptions of Their Cultural Competence in Caring for Diverse Patient Populations. Online Journal of Cultural Competence in Nursing and Healthcare, 6(1), 121-137. doi:10.9730/ojccnh.org/v6n1a10
Jongen, C., McCalman, J., Bainbridge, R., & Clifford, A. (2017). Cultural Competence Education and Training for Health and Medical Students. SpringerBriefs in Public Health, 65-74. doi:10.1007/978-981-10-5293-4_5
Kaur, N. (n.d.). Developing Cross-Cultural Competence Through Cultural Intelligence. Handbook of Research on Cross-Cultural Business Education, 272-298. doi:10.4018/978-1-5225-3776-2.ch013
Kenney, C. (2018). How Will You Contribute? A Look at an Instructional Strategy to Improve Student-Centered Learning. Networks: An Online Journal for Teacher Research, 20(1). doi:10.4148/2470-6353.1270
Little, D. (2015). Teaching Visual Literacy across the Curriculum: Suggestions and Strategies. New Directions for Teaching and Learning, 2015(141), 87-90. doi:10.1002/tl.20125
Lo, P. W. (2011). The Gap Between Teaching and Learning in Higher Education: A CrossDisciplinary Study of Learning Style and Teaching Style in Taiwan. PsycEXTRA Dataset. doi:10.1037/e714782011-001
Lopes-Murphy, S., & Murphy, C. (2016). The Influence of Cross-Cultural Experiences & Location on Teachers' Perceptions of Cultural Competence. Journal of the Scholarship of Teaching and Learning, 16(3), 57-71. doi:10.14434/josotl.v16i3.19331
Mohidin, R., Jaidi, J., Sang, L. T., & Osman, Z. (2009). Effective Teaching Methods and Lecturer Characteristics a Study on Accounting Students at Universiti Malaysia Sabah. European Journal of Social Sciences, 8(1), 21-29.
Nelson, A. E. (2017). Methods Faculty Use to Facilitate Nursing Students' Critical Thinking. Teaching and Learning in Nursing, 12(1), 62-66. doi:10.1016/j.teln.2016.09.007
Nelson, S. W., & Guerra, P. L. (2013). Educator Beliefs and Cultural Knowledge. Educational Administration Quarterly, 50(1), 67-95. doi:10.1177/0013161x13488595
Phillips, R. M. (2014). Creative Classroom Strategies for Teaching Nursing Research. Nurse Educator, 39(4), 199-201. doi:10.1097/nne.0000000000000052
Rampersad, I. (2014). Multiculturalism and the Challenge of Managing Diversity in Trinidad and Tobago. Journal of Social Science for Policy Implications, 2(1), 127-149.
Rew, L., Becker, H., Chontichachalalauk, J., & Lee, H. (2014). Cultural Diversity Among Nursing Students: Reanalysis of the Cultural Awareness Scale. Journal of Nursing Education. doi:10.3928/01484834-20140122-01
Sharma, R. K. (2017). Emerging Innovative Teaching Strategies in Nursing. JOJ Nursing & Health Care, 1(2). doi:10.19080/jojnhc.2017.01.555558
Standford, A. G. (2014). The effects of teachers" teaching styles and experience on elementary students" mathematical achievement (Doctoral dissertation). Liberty University, Lynchburg, VA.
Stephan, M. (2014). Teacher-Centered Teaching in Mathematics Education. Encyclopedia of Mathematics Education, 593-598. doi:10.1007/978-94-007-4978-8_150
Sugahara, S., & Boland, G. (2013). The Role of Cultural Factors in the Learning Style Preferences of Accounting Students: A Comparative Study between Japan, Australia and Beliguim. Accounting Education, 19(3), 235-255. doi:10.1080/09639280903208518
Wilson, P. C. (2014). The relationship between teachers' levels of cultural competence and the nomination/ referral process for gifted identification of culturally and linguistically diverse students (Doctoral dissertation). Virginia Commonwealth University, Richmond, Virginia.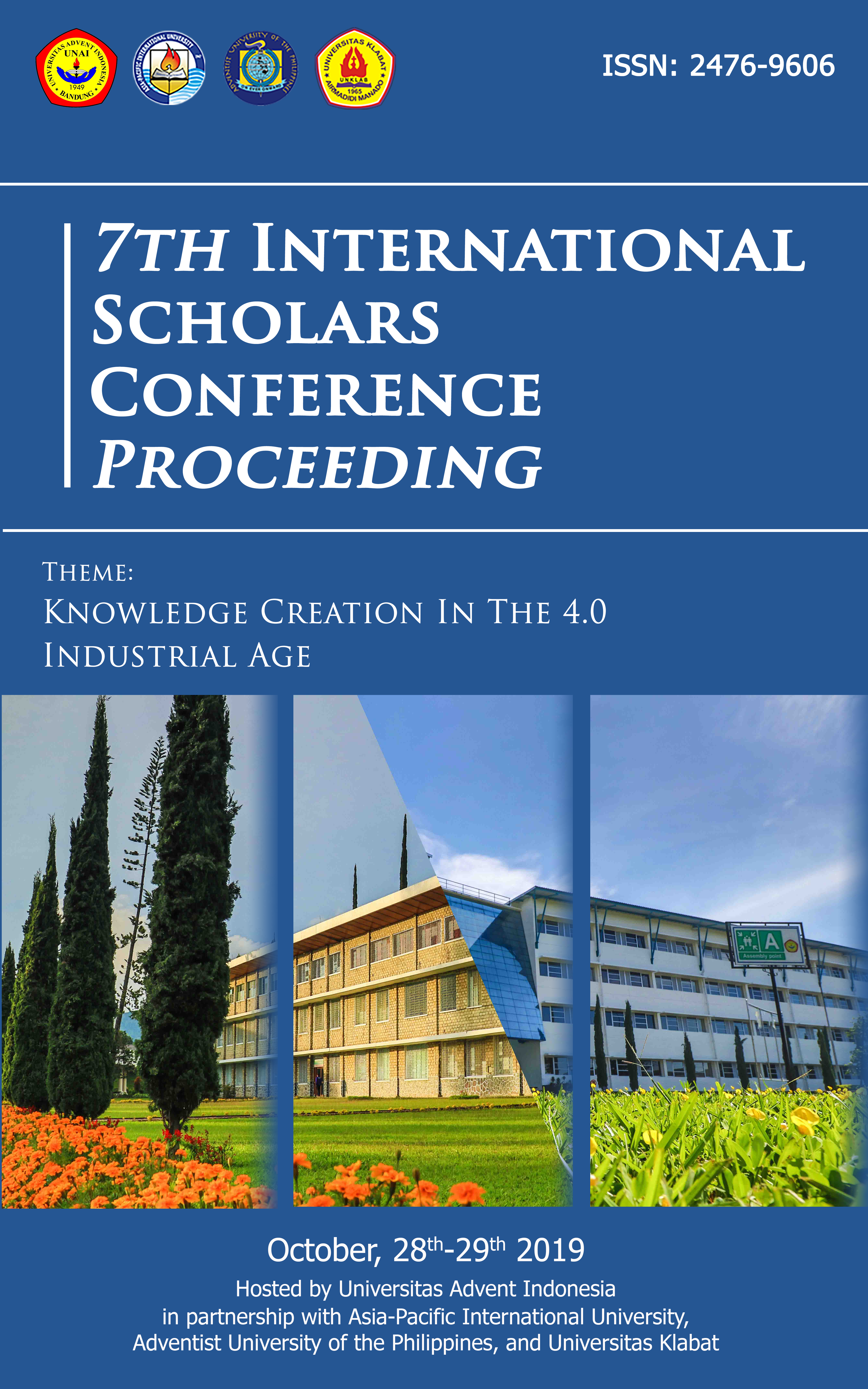 How to Cite
ANTWI, F., Osei, S., Peprah, W., Antwi, M., & Antwi, E. (2019). The Integration of Intercultural Competence in Innovative Pedagogical Methodology in Nursing Education. Abstract Proceedings International Scholars Conference, 7(1), 193-206. https://doi.org/10.35974/isc.v7i1.944
Copyright (c) 2019 Abstract Proceedings International Scholars Conference
This work is licensed under a Creative Commons Attribution-ShareAlike 4.0 International License.
Copyright © 2019 ISC Committee.