Nursing Students Attitude Towards Self-Care Management
WILLIAMS KWASI PEPRAH

VALLEY VIEW UNIVERSITY

GIFTY TANO

ADVENTIST UNIVERSITY OF THE PHILIPPINES

Fiskvik Boahemaa Antwi

Adventist University of The Philippines

Simon Akwasi Osei

Adventist University of The Philippines
Keywords:
Self-care Management, Nursing Students, Attitude
Abstract
Self-care management has become a theoretical discussion among health professional andstudents. As a result of its importance, the International Council for Nurses has incorporatedit in their standard of competence. Self-care encourages health and is a fundamental value ofthe scope and standards of practice. Nursing students are advised to have proper self-care. Thisstudy looked into the self-care management practices of nursing students at the AdventistUniversity of the Philippines and how they align with the institutional outcomes. Thisquantitative study conveniently samples 47 nursing students as respondents. The study adoptedthe Circle of Human Potential ' questionnaire by Dossey and Keegan (2009), which assessedself-care management in the areas of physical, relationship, emotional, spiritual, mental, andchoice. The application fo SPSS 23 was used for the descriptive and T'Test analysis asdemanded by the research questions. The results of the study revealed that there is a positiveself-care management attitude among nursing students. The ranked of self-care managementfrom highest to the least in the order of spiritual, mental, emotional, relational, choice, andphysical assessments. It further revealed that there was no significant difference in self-caremanagement when considering the gender of the students. The outcomes of the study were inaccordance with the AUP institutional outcomes of spirituality, critical thinking, professionalexpertise, service, health and wellness, and positive attitude. The study recommends thatnursing students keep up with their positive self-care management.
Downloads
Download data is not yet available.
References
Alexander, M. F., & Runciman, P. J. (2003). ICN framework of competencies for the generalist nurse: Report of the development process and consultation. International Council of Nurses.
Ashcraft, P.F., & Gatto, S. L. (2015). Care-of-self in undergraduate nursing students: A pilot study. Nursing Education Perspective, 36(4):255-6. https://doi.org/10.5480/13-1241. 2.
Austen, M. (2015). Self-care in Nursing: A Call to Action. Retrieved from: https://www.arnbc. ca/blog/self-care-in-nursing-a-call-to-action-by-marenausten-bsn-student.
Brown, C. J., & Bar, B. (2019). Student Experience of Self-Care in an Online Master of Science in Nursing Course. Nursing education perspectives, 40(3), 168-170.
Clark, C. S. (2014). Stress, psychoneuroimmunology, and self-care: What every nurse needs to know. Journal for Nursing Care, 3(2):146. https://doi.org/10.4172/2167-1168.10001 46.
Dossey, B. M., & Keegan, L. (2009). Holistic nursing: A handbook for practice (5th ed.). Sudbury, MA: Jones & Bartlett.
Goudarzian, A. H., Nesami, M. B., Sedghi, P., Gholami, M., Faraji, M., & Hatkehlouei, M. B. (2019). The Effect of Self-Care Education on Emotional Intelligence of Iranian Nursing Students: A Quasi-experimental Study. Journal of religion and health, 58(2), 589-598.
Hensel, d., & Laux, M. (2014). Longitudinal study of stress, self-care, and professional identity among nursing students. Nurse Educator, 39(5), 227–231.
Mariano, C. (2013). Holistic nursing: scope and standards of practice. In b. Dossey & l. Keegan (eds.), Holistic Nursing: A Handbook For Practice (pp.59-84). Burlington, ma: Jones & Bartlett.
Mills, J., Wand, T., Fraser. J.A. (2015). On self-compassion and self-care in nursing: Selfish or essential for compassionate care? International Journal of Nursing Studies, 52, 791– 793
Nevins, C. M., & Sherman, J. (2016). Self-care practices of baccalaureate nursing students. Journal for Holistic Nursing, 34(2):185-92.
Nursing & Midwifery Council, (2010). Standards for competence for Registered Nurses. Retrieved from: http://www.nmc-uk.org/Documents/Standards/Standards%20for%20 competence.pdf.
Nursing Council of New Zealand, (2007). Competencies for Registered Nurses. Retrieved form:http://www.nursingcouncil.org.nz/content/download/263/1205/file/Competencie s%20for%20registered%20nurses.pdf/.
Osei, S.A., Antwi, F.B., Peprah, W.K., & Antwi, E. (2019). The influence of adaptive coping behavior on stress of nursing students. A paper presented at the 1st International Research Forum. On Fire: Excellence in Research, Adventist University of the Philippines, Putting Kahoy, Silang, Cavite, and April 25, 2019.
Paul, J. J. (2019). Your Health-Don't Leave it to Luck: Analyzing Nursing Students' Perceptions of Self-Care. Retrieved from: https://sigma.nursingrepository.org/bitstream/handle/107 55/16515/Paul_PST149_93314.pdf?sequence=1.
Philippine Nurses Association, (2012). National Nursing Core Competency Standards. Retrieved from: http://www.pna-ph.org/downloads/2012%20Core%20- Competency% 20Standards.pdf.
Pulido-Martos M., Augusto-Landa J.M., & Lopez-Zafra E (2012). Sources of stress in nursing students: A systematic review of quantitative studies. International Nursing Review, 59(1):15-25. https://doi.org/10.1111/j.1466-7657.2011.00939.x.
Riley, J. M., Collins, D., & Collins, J. (2019). Nursing students' commitment and the mediating effect of stress. Nurse education today, 76, 172-177.
Shin, S.R., Eschiti, V.S. ( 2005). East meets west: a search for holism in Korean nursing practice. Journal for Holistic Nursing. 23 (3), 356–362, http:// dx.doi.org/10.1177/0898 010105277653.
Siappo, C. L. G., Nunez, Y. R. & Cabrail. (2016). Nursing students' experiences in self-care during training process in a private university in Chimbote, Peru. Escola Anna Nery 20(1).
Tachias, L. M., & Ferguson, R. W. (2019). Analyzing Self-Care Initiative of Nursing Students. Retrieved from: https://sigma.nursingrepository.org/bitstream/handle/10755/16942/ Tachias_96337_PST261.pdf?sequence=1&isAllowed=y.
Vagias, Wade, M. (2006). Likert-type scale response anchors. Clemson International Institute for Tourism & Research Development, Department of Parks, Recreation and Tourism Management. Clemson University
Younas, A. (2016). Levels of stress and coping strategies used by nursing students in Asian countries: An integrated literature review. Journal for Middle East North Africa Science, 2(4):50-7.
Younas, A. A. (2017). Foundational analysis of dorothea orem's self-care theory and evaluation of its significance for nursing practice and research. Creative Nursing, 23(1):13-23.
Younas, A. (2017). Self-care behaviors and practices of nursing students: Review of literature. Journal of Health Sciences,7(3):137-145.Nusantara.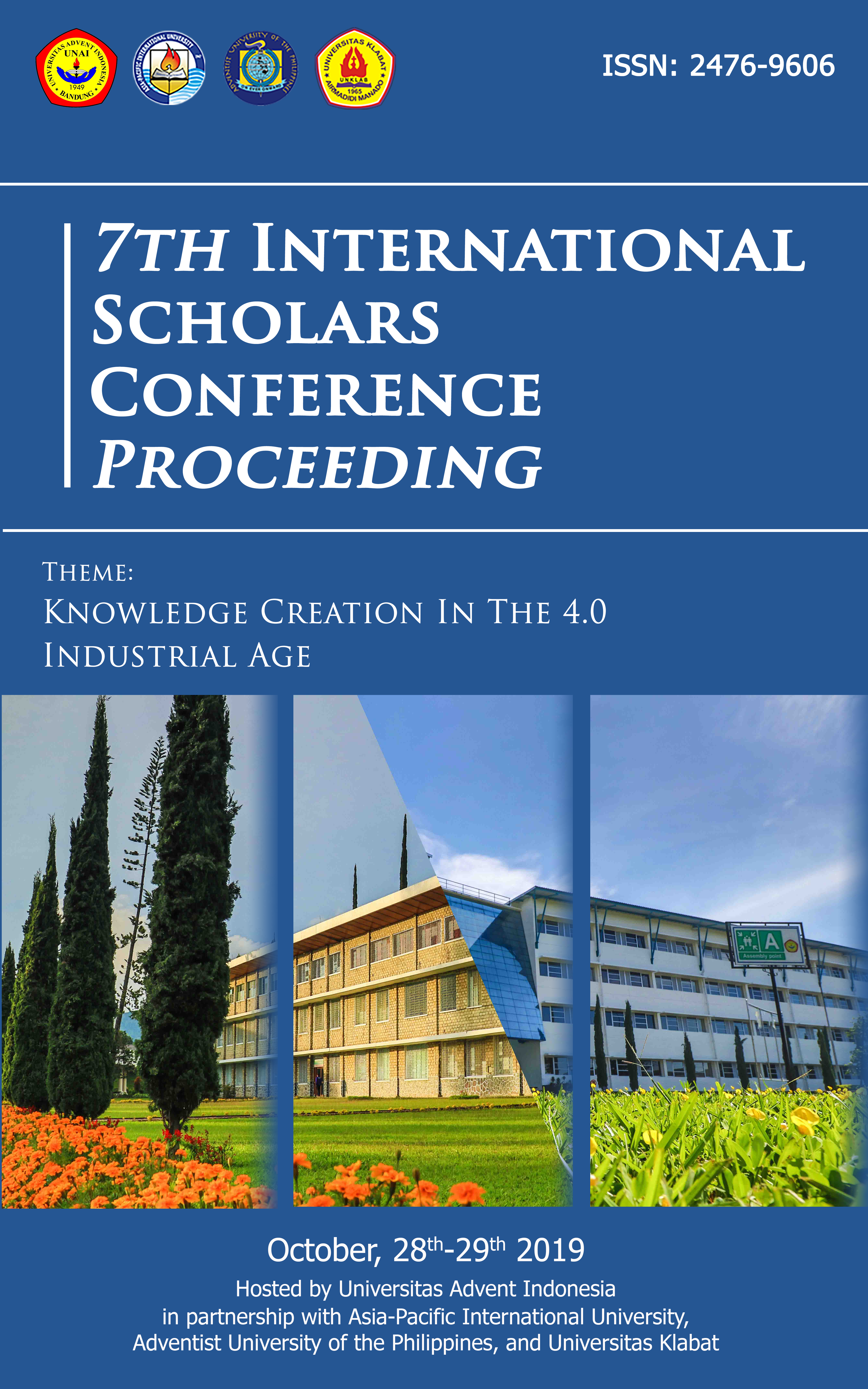 How to Cite
PEPRAH, W., TANO, G., Antwi, F., & Osei, S. (2019). Nursing Students Attitude Towards Self-Care Management. Abstract Proceedings International Scholars Conference, 7(1), 218-229. https://doi.org/10.35974/isc.v7i1.948
Copyright (c) 2019 Abstract Proceedings International Scholars Conference
This work is licensed under a Creative Commons Attribution-ShareAlike 4.0 International License.
Copyright © 2019 ISC Committee.