The Influence of Organizational Culture on Planning as Perceived by Employees in The Hospital
Evangelis Pardede

ADVENTIST UNIVERSITY OF THE PHILIPPINES

WILLIAMS KWASI PEPRAH

VALLEY VIEW UNIVERSITY

Patience Boatemaa Antwi-Yamoah

valley view university- Ghana
Keywords:
Organizational Culture, Planning, Hospital Employees
Abstract
Planning is essential to healthcare institutions. The first important factor that indicates the effectiveness and efficiency of an organization is planning and the realization of how the vision and mission that have been set up are implemented. However, organizational culture plays a key role in setting a plan for hospitals. It is upon this premises that this study seeks to find the impact of organizational culture on planning as professed by employees in the hospital and the significant difference between sex and age when planning was considered. This was quantitative research which was designed as descriptive-correlational. The self-constructed instrument was conveniently administered to 108 hospital employees within Laguna in the Philippines to measure their hospital organizational culture and planning. The statistical study treatment was based on SPSS version 23, where Mean and Standard Deviation and Pearson Correlation and t-test were used to analyze the data. The results revealed that hospital planning was very high, and they strongly agree with the influence of their organizational culture. Furthermore, the study resulted that there is a high correlation between organizational culture and planning. There was a significant difference in sex, however, there was no significant difference in age. The implication is that hospitals must make sure that their firms' culture supports planning so that they can meet their objectives. The study recommends that hospitals must make sure that their cultural practices support planning. This is among the various ways to achieve hospitals success and make them effective and efficient.
Downloads
Download data is not yet available.
References
Agwu, M.O., (2014). Organizational culture and employees" performance in the Aational
Agency for food and Drugs Administration and Control (NAFDAC) Nigeria. Global
Journal of Management and Business Research, 14(2), 1- 9.
Ahmadi S., Salamzadeh Y., Daraei M., Akbari J., (2012). Relationship between organizational
culture and strategy, Payam Noor University, Tehran Branch, Tehran, Iran Global
Business and Management Research, 4 (3); 286-299.
Alvesson, M., & Sveningsson, S., (2015). Changing organizational culture: Cultural change
work in progress. Routledge: London.
Ben Saad, G., & Abbas, M., (2018). The impact of organizational culture on job performance:
a study of Saudi Arabian public sector work culture. Problems and Perspectives in
Management, 16(3), 207-218. doi:10.21511/ppm.16 (3).2018.17.
Chancellor D., (2015). Four Company that failed spectacularly. Retrieved from https://
www.managers.org.uk/insights/news/2015/september/four-companies-that-failedspectacularly-
and-the-lessons-of-their-premature-demise.
Cussen M. P., (2018) Bankruptcy can be a result of overspending or bad planning. Retrived
from: https://www.investopedia.com.
Goerg Sebastian J., (2015). Goal Setting and worker motivation. Retrieved from:
https://wol.iza.org/uploads/articles/178/pdfs/goal-setting-and-worker-motivation.pdf.
Hitt, M.A., Ireland, R.D., & Hoskisson, R.E., (2015). Strategic Management: Competitiveness
and Globalization, 11th ed. UK: Cengage Learning.
Jeseviciute-Ufartiene, L., (2014). Importance of Planning in Management Developing
Organization, Lithuanian Sports University, Kaunas, Lithuania. Journal of Advanced
Management Science, 2(3), 176-180.
KPMG International, (2017). Driving corporate culture from the top. Retrieved From:
https://home.kpmg.com/xx/en/home/insight/2017/03/driving-corperate-culture-fromthe-
top-global boardroom-1 insight html.
La Vincente, S., Aldaba, B., Firth, S., Kraft, A., Jimenez-Soto, E., & Clark, A. (2013).
Supporting local planning and budgeting for maternal, neonatal and child health in the
Philippines. Health research policy and systems, 11(3), 2-6.
Laforet, S. (2016). Effects of organisational culture on organisational innovation performance
in family firms. Journal of Small Business and Enterprise Development, 23(2), 379-
doi:10.1108/jsbed-02-2015-0020.
Lipman V. (2015). Are women better managers then men? Retrieved from:
https://www.psychologytoday.com/us/blog/mind-the-manager/201504/are-womenbetter-
managers-men.
Maseko, T.S.B. (2017). Strong vs. weak organizational culture: Assessing the impact on
employee motivation. Arabian Journal of Business and Management Review,7(1),1-5.
doi:10.4172/2223-5833.1000287.
Mehrtak M, E., Shahram, H., Azis K & Hamed, Z. (2017). The role of organization culture on
succession planning at the Minister of Health and Education, a qualitative study.
Electronic Physician Journal,9 (11); 5806-5813.
Peprah, W. K., & Ganu, J. (2018). The Convergence of Organizational Culture, Structure and
Human Capital Performance: A Conceptual Analysis. Archives of Business Research,
(5), 212-221.
Perrin R. (2013). Partner and Head of Advisory at KPMG, Romania. Retrieved from:
https://home.kpmg/ro/en/home/about/overview/leadership.html
Serpa, S., (2016). An overview of the concept of organizational culture. International Business
Management Journal, 10(1), 51-60.
Schein E. H., (2013). Organization Culture and Leadership, 3rd Edition level. USA: AWiley
Imprint
Terry, (2018). ow to void failure of planning. Retrieved from: https://accountlearning.com/
advantages-and-disadvantages-of-planning-how-to-avoid
Weiner, G (2018). How Financial Planning changes when there is an age difference. Retrieved
from https://supersavingtips.com/financial-planning-when-theres-an-age-difference.
Worthy D.A., Gorlick A.M., Pacheco J.L, Schnyer D.M, & Maddox W.T. (2011). With Age
Comes Wisdom; Decision making in younger and older adults. Journal PMC, US
National Library of Medicine, University of Texas. 22(11), 1375-1380.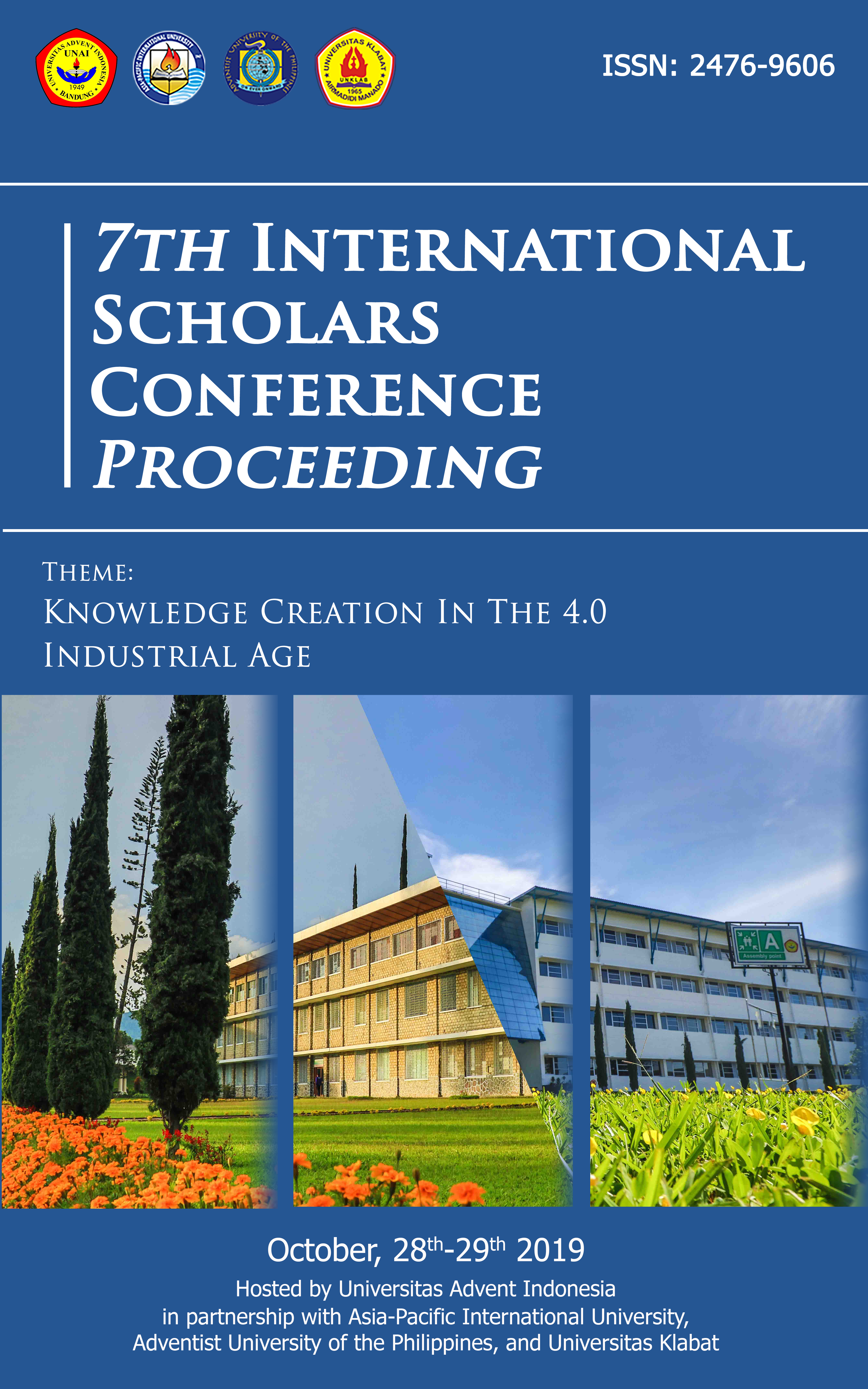 How to Cite
Pardede, E., PEPRAH, W., & Antwi-Yamoah, P. (2019). The Influence of Organizational Culture on Planning as Perceived by Employees in The Hospital. Abstract Proceedings International Scholars Conference, 7(1), 1030-1043. https://doi.org/10.35974/isc.v7i1.950
Section
Business & Governance
Copyright (c) 2019 Abstract Proceedings International Scholars Conference
This work is licensed under a Creative Commons Attribution-ShareAlike 4.0 International License.
Copyright © 2019 ISC Committee.